This Day In History: 1944-01-12
Future Stalin Peace Prize winner Howard Fast resigned on this day in 1944 as Voice of America chief news writer
On January 12, 1944, future Stalin International Prize (1953) winner Howard Fast resigned his position as chief news writer and editor of Voice of America (VOA) news. This part of history about some of Voice of America's influential early broadcasters having contacts with Soviet intelligence agents and being deceived by Soviet propaganda, while known to a few past and some current VOA officials, has been hidden from Americans for many decades. It is only now being revealed through the publication of previously classified and confidential U.S. government documents as propaganda from Vladimir Putin's Russia again threatens to undermine American democracy. But even now, the Voice of America management still refuses to admit how naive early VOA journalists were about Russia, how they fell for Soviet propaganda and how they helped Stalin in promoting his lies that he would bring freedom, progress and democracy to Eastern Europe. Some of the same lies about World War II are now being repeated by Vladimir Putin. Until recently, most VOA journalists had no idea that the first VOA news director in the U.S. Office of War Information (OWI) was a future Communist Party member and a recipient of the Stalin Peace Prize. Many still think that the first VOA director John Houseman, who gave Fast his VOA news writing job, was a defender of truthful journalism.
In his January 12, 1944 letter of resignation to Louis G. Cowan at the Office of War Information, who is identified in the official Voice of America: A Brief History as the second VOA Director who served from August 1943 to August 1945, Howard Fast wrote that he "was proud to be a member of the OWI." Both Fast and Houseman frequently referred to their work at the Voice of America as anti-Nazi propaganda but failed to mention that it was also pro-Soviet propaganda.
I wish to make it plain to both you and Mr. Barnes that I resign, not becuase (sic) of any dissatisfaction with the OWI or the treatment I have receive there – – but because I feel that the peculiar propaganda value of my work may best be utilized domestically. [An unsigned copy of the letter from Howard Fast to Louis G. Cowan in Howard Fast's Official OWI Personnel File in National Personnel Records Center, 1 Archives Drive, St. Louis, MO 63138.]
In his autobiography Being Red, Fast wrote that for writing Voice of America news, he "established contact at the Soviet embassy with people who spoke English and were willing to feed me important bits and pieces from their side of the wire." [Howard Fast, Being Red (Boston: Houghton Mifflin Company, 1990), 18.] He also wrote that he did not allow anti-Soviet propaganda in Voice of America broadcasts. It meant that no critical news or information of any kind about Soviet Russia, Stalin or communist atrocities were broadcast during the war by the Voice of America while Fast was in charge of VOA newscasts to Europe and even for several years after he left his U.S. government position.
Fast also claimed that he had suggested "Yankee Doodle" to be VOA's musical signal, but this claim could not be confirmed.
In his resignation letter to Louis G. Cowan, Fast wrote that that the Overseas Branch of the Office of War Information "was concerned particularly with the dissemination of news; I am not a news man." In early 1943, Fast was, however, recruited from among the OWI staff by the first VOA Director John Houseman to be in charge of gathering, writing and editing VOA radio news. He stated in his job application that he wanted to produce "propaganda."
Before Fast joined the U.S. government propaganda agency in December 1942, he was already a published author of best selling historical novels. Besides Fast, John Houseman had hired many communists and Soviet sympathizers to work on preparing early Voice of America broadcasts. Among Fast's friends at the Voice of America were Polish and Czech journalists, Stefan Arski, aka Artur Salman, Mira Złotowska (later known as Mira Michałowska) and Adolf Hoffmeister. During the war, Arski and Złotowska maintained contacts with Soviet intelligence agents although there is no evidence that they themselves were Soviet spies. After the war, all three worked for Soviet-dominated communist regimes in East-Central Europe.
On January 21, 1944, VOA Director Louis G. Cowan wrote a glowing recommendation letter for Howard Fast, in which he stressed that accepting his resignation was "pure compliance with your wish — not at all what we want."
"…what a fine job you have done for this country, the OWI, and the Radio Bureau [the Voice of America] in particular….Please accept my own sincere thanks and with that the gratitude of an organization and a cause well served." [Howard Fast, Being Red (Boston: Houghton Mifflin Company, 1990), 25. There is no copy of this letter in Howard Fast'sOfficial OWI Personnel File in National Personnel Records Center, 1 Archives Drive, St. Louis, MO 63138.]
Louis G. Cowan ended his letter to Howard Fast with a note that he was being greateful for his service at the Voice of America, not only on his own behalf but also on behalf of Office of War Information Director Elmer Davis, Overseas Bureau directors Robert E. Sherwood and Joseph Barnes, and former VOA Director John Houseman. Many people at the agency "have been inspired by your sincerity and your achievement," Cowan added. Soviet communist dictator Josef Stalin had to be also among those pleased with Howard Fast's performance at the Voice of America. Fast's 1953 Stalin Peace Prize, given to him ten years after he had left VOA, was worth about $235,000 (in today's dollars). His former VOA colleague Mira Złotowska translated his  books which were published by government publishing houses in communist-ruled Poland. He was also after the war a best selling American author in the Soviet Union. A former Voice of America Russian Service broadcaster Dr. Irene Kelner who had left the Soviet Union as a refusenik in the 1970s pointed out recently that Fast was a popular figure in the USSR:
Howard Fast was extremely popular in the Soviet Union because he was a member of the Communist Party. I remember that Soviet press presented him as most important American writer.[Irene Kelner, Facebook comment, December 22, 2019.]
The real reason for Fast's resignation from his VOA job was the refusal by the State Department to give him a U.S. passport for official government travel to North Africa. The U.S. Army Intelligence and the State Department made a similar refusal to John Houseman, forcing his resignation in mid-1943. Houseman was Fast's main patron and mentor at the Voice of America. Fast's name did not appear in the attachment to the April 6, 1943 secret memo written by Under Secretary of State Sumner Welles to the FDR White House warning about Soviet and communist influence at the OWI. In the same attachment to Sumner Welles' memo, Houseman's immediate boss and close friend, former foreign correspondent in the Soviet Union Joseph F. Barnes, was described as another propagandist for the Soviet Union at the OWI, although he was given a U.S. government passport for official travel abroad.
"It is reliably stated that there has been no crucial point in Russian development, since 1934, when Barnes has not followed the Party line and has not been much more successful than the official spokesman in giving it a form congenial to the American way of expression." [State – Welles, Sumner, 1943-1944, From Collection: FDR-FDRPSF Departmental Correspondence, Series: Departmental Correspondence, 1933 – 1945 Collection: President's Secretary's File (Franklin D. Roosevelt Administration), 1933 – 1945, National Archives Identifier: 16619284.]
Barnes and Robert E. Sherwood were not only Houseman's and Fast's bosses, they were in charge of Voice of America for much of the war. Fast was added to the list of suspected communists a few months later after John Houseman was identified as a communist sympathizer. Barnes was forced to resign soon after Houseman's resignation. In his autobiography Being Red, published in 1990, Fast confirmed that Houseman played an important role in his VOA career:
"Through all my months at the OWI, Jack Houseman maintain an avuncular attitude toward me." [Howard Fast, Being Red (Boston: Houghton Mifflin Company, 1990), 18.]
While President Franklin D. Roosevelt and his administration were already strongly pro-Soviet and willing to appease Stalin on almost anything to keep him at war with Germany, including agreeing to his post-war control over East-Central Europe, they did not want to tolerate "insubordination" by Voice of America officials and journalists–a phrase used by General Dwight Eisenhower to describe some of the communists and other extremely pro-Soviet activists working at that time on VOA wartime broadcasts.[Dwight D. Eisenhower, The White House Years: Waging Peace 1956-1961 (Garden City: Doubleday & Company, 1965) 279.] In his autobiography, Unfinished Business, Houseman wrote that after he resigned, the Voice of America "would be operating mostly as an adjunct of the Armed Forces rather than as an ideological outpost of progressive American thinking." [John Houseman, Unfinished Business — Memoirs: 1902-1988 (New York: Applause Theatre Book Publishers, 1989), 253.] It was a vast exaggeration. The U.S. Army simply did not want communist agitators among VOA journalists to put the lives of American soldiers at risk which they did with some of their commentaries.
Fast became a member of the Communist Party USA probably shortly after he left his job at VOA if not before. There is no proof that Houseman formally joined the Communist Party at any time, but even liberal Roosevelt Administration officials in the State Department were convinced that he was a communist. He hired a large number of his communist and fellow traveler friends to work at VOA. He also promoted Howard Fast to his news writing position. Some of the Soviet sympathizers hired by Houseman were eventually identified as communists and fired, but some stayed at the Voice of America for several years, even after the war. When Houseman's friends at the OWI wanted to rehire him in 1945 and send him to Germany, his Hollywood boss, film studio executive David O. Selznick, wrote about Houseman on a confidential government form that he might be a leftist extremist:
"Only worry would be his extreme leftist views which possibly misunderstood and exaggerated in gossip. Should think this must have been checked before appointed (sic) to his very important O.W.I. job." [David O. Selznick, OWI SF-66 form, John Houseman's Official OWI Personnel File in National Personnel Records Center, 1 Archives Drive, St. Louis, MO 63138.]
David O. Selznick otherwise gave Houseman a positive review as to his dependability, acceptance of responsibility and resourcefulness, but said that Houseman was only "moderately" pleasant and cooperative in his relationship with others. The State Department again refused to give Houseman a U.S. government passport to travel to his proposed OWI job in Germany which he did not get and remained in Hollywood.
After leaving his federal government job in mid-1943, Houseman eventually became a successful Hollywood actor.
After leaving VOA in early January 1944, his most famous hire Howard Fast joined the Communist Party USA and became a reporter for the party's newspaper The Daily Worker. His U.S. OWI personnel records include a letter asking him to return his U.S. government I.D. card. Fast responded that he had lost it.
In later years Howard Fast continued his successful writing career, was briefly jailed on federal charges of contempt of Congress for refusing to name members of a communist front organization used to promote Soviet influence in the United States, and saw his novel Spartacus made into a blockbuster Hollywood film. He was blacklisted in Hollywood for several years as a suspected agent of influence for communism and the Soviet Union. As a Communist Party USA activist, he was perhaps one of the few victims of anti-communist hysteria of the McCarthy period who actually helped to spread Soviet propaganda lies and covered up Stalin's crimes while working as a federal employee at the Voice of America in 1943. While he left the Communist Party in 1956 or 1957, Howard Fast never condemned communism or Soviet Russia. He claimed that while working for the Voice of America and later as a Communist Party activist he had no idea until 1956 that Stalin was a mass murderer. Even after all Soviet sympathizers were replaced in the Voice of America foreign language services by anti-communist refugee journalists, it took many years to reverse the damage done by VOA's early pro-Soviet Russia and pro-communist propagandists, including John Houseman, Howard Fast and many others.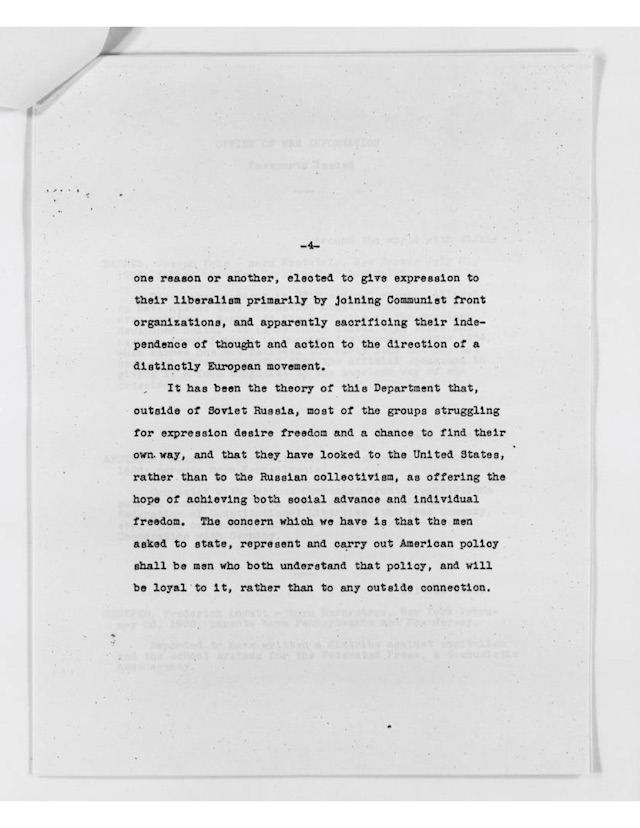 ALSO READ: