By Ted Lipien for Cold War Radio Museum
Soviet influence at Voice of America during World War II — documents and analysis
Mira Złotowska, better known as Mira Michałowska, or names of other Soviet sympathizers who had worked in New York on World War II Voice of America (VOA) anti-Nazi and pro-Soviet propaganda radio broadcasts, do not appear in the online presentation "VOA Authors: Many Years, Many Stories — 75 Years of After-Hours Wisdom" recently posted (November 2019) by the taxpayer-funded U.S. government media agency. Złotowska (she also used about ten different pen names; Złotowska, Michałowska and Michal are used in this article referring to her during different periods of her life) is one of many early Voice of America radically leftist journalists, some of them like her also bestselling authors, who have been omitted, at first intentionally and later through fading memories and the lack of honest historical research, from articles and books about VOA and U.S. international broadcasting.
Although now the pioneer role in U.S. international radio broadcasting of Moscow's agents of influence has been forgotten, their work as American government propagandists who helped Stalin implement his plans for East-Central Europe and protected him from criticism is an important part of Voice of America's history which deserves further study in the age of renewed Russian disinformation and influence operations against the West. Mira Michałowska's rich and complicated life story could easily be made into a Hollywood movie about Nazis, Communists, anti-Communists, radio propagandists and Cold War spies. Because she was suspected of having a close relationship with an American ambassador serving in Warsaw, she was once called a "Mata Hari," but whether she truly was a communist spy or merely a brilliant woman and a writer who cultivated many international friends is still a mystery.
One of the places where Mira Złotowska-Michalowska left her mark and which survived World War II and the Cold War is the Voice of America. Americans know very little about its history, but those who have heard of VOA may remember it as a U.S. government shortwave radio station which, together with other American-funded stations, Radio Free Europe and Radio Liberty, broadcast uncensored news during the Cold War to countries under Soviet control behind the Iron Curtain. This part of its history is true, but almost no American today knows that early in its existence, the Voice of America employed a large number of Soviet sympathizers and agents of influence, a few of whom ended up later establishing communist governments in East Central Europe and helping them target Americans for support with pro-regime propaganda. One of these former Voice of America journalists was Polish writer and translator Mira Złotowska who was better known later as Mira Michałowska. She is believed to be the first woman-journalist from Poland who published articles in English in mainstream American news magazines, some of them with subtle but effective propaganda in support of the post-war communist regime, to which she apparently remained more or less loyal her entire life even if she eventually started to detest it, as one Polish scholar suggested already in 1968. 1
After returning to Poland shortly after the war, her work in the United States continued in the 1950s and the 1960s. As the wife of Polish communist diplomat Jerzy Michałowski, whom she married in 1947, she hosted diplomatic receptions in New York and Washington and may have done a little bit of spying on American diplomats for the communist government in Poland. This might have been just routine reporting to Warsaw about contacts with an important foreigner, which Polish communist diplomats and their spouses had to do, or perhaps something much more, involving an illicit love affair and diplomatic secrets, but none of it can be unraveled without access to still secret Polish and U.S. intelligence files. It is not surprising, however, that her ability to develop friendships with well-known figures in the world of actors, artists, writers, journalists and politicians in Great Britain and in the United States in the Cold War era caught the attention of intelligence and counterintelligence services.
Whether she was or was not a real spy will remain for now a mystery. The spying accusations, which at the time were raised in a few minor American newspaper articles and mentioned by at least two members of the U.S. Congress, cannot be definitely proven with documentary evidence. Very few people in the United States or in Poland remember these accusations. Practically no one has heard about them because, although not secret, they were never widely publicized even at the time when they were made. Mainstream American media did not report on them to the best of my knowledge. Communist media in Poland would completely ignore such reports, unless they wanted to ridicule them. I did not find any indication that they did in her case. If mainstream American media did not report on these accusations, the Voice of America would almost certainly ignore them out of the station's management's overwhelming concern for not damaging U.S.-Polish diplomatic relations. While Radio Free Europe would have reported on serious cases of communist espionage, as would VOA, allegations against Michałowska, which could not be proven with any documents or witnesses, would not qualify as sufficiently newsworthy even during the Cold War.

There is little doubt that she had to report to the regime's intelligence service on her contacts with Westerners of special interest. Even Voice of America journalists had to report to their security office during the Cold War on all their contacts with diplomats from communist block countries. Whether she was an active participant in intelligence gathering operations against the United States, as it was alleged in the late 1960s, may never be known. Her defenders claim that she had refused to spy on her Western friends, which was tolerated, they claim, because she was the wife of an important regime ambassador. They also said that when her husband was no longer in diplomatic service, she was requested to spy, refused, and in retaliation for her refusal was prevented by the regime for a number of years in the 1970s to travel abroad to visit her friends. None of this can be confirmed without access to still secret government intelligence files, but the claim that she would have been able to refuse providing any such information while still at a diplomatic mission abroad, especially during the period when her husband was the ambassador to Great Britain while Poland was ruled by the notoriously repressive and paranoid Stalinist regime headed by Bolesław Bierut in the 1950s, seems extremely improbable. The whole system was based on a fear of spying by the West and on the regime's spying on Poland's own citizens and accusing its political opponents of being Western agents and Nazi sympathizers.

I did not find any mention or proof that Michałowska was a dues-paying member of the Polish Workers Party, but I also did not find in any of her writings I have seen any direct criticism of the party or the communist system in Poland, or criticism of the Soviet Union. Her family claims that she never joined the Communist Party. Her diplomat-husband was a Communist Party member and, according to her family, was expelled from the party in the early 1970s as part of the communist-inspired anti-Semitic purge which started in 1968. He served as the regime's ambassador in the United States until July 1971. 2
What was newsworthy and what was being reported by Radio Free Europe were the communist regime's attempts to subvert and split Polish ethnic and refugee organizations abroad. Like all regime diplomats and their spouses, Michałowska had to contribute to this effort. These attempts ultimately failed for the most part, but at the time they looked particularly threatening to anti-regime Poles living in exile. However, most anti-communist Polish journalists abroad also understood that diplomatic relations and various forms of exchanges between Western countries and Poland were necessary and, if conducted under careful scrutiny, could help Poland gain a small measure of freedom even under Soviet domination.
Michałowska also had another role as the wife of a regime diplomat. It was to engage in soft public diplomacy to win greater support for the regime in the West, which involved using soft propaganda to manipulate public opinion, particularly in two Western countries, Great Britain and the United States. Somewhat related was her busy journalistic and writing activity in Poland, which was welcomed by many in the country as bringing some Western ideas and culture to the Poles, but some also saw it as the regime's cynical attempt to manipulate and control state media and public opinion for its safety and ultimate benefit. By helping the regime develop modern television programs, she would have contributed to the creation of less harsh but more effective political and non-political propaganda. There is little doubt that through her work at the Voice of America, Time and Harper's Magazine during and immediately after World War II, she had made a contribution to the propaganda effort by Soviet sympathizers in the United States to help win support for the installation of a pro-Soviet communist government in Poland.
Reputation in Poland
Mira Michałowska is still generally well regarded in Poland as the author of popular articles written for the weekly magazine Przekrój which under communism had a reputation of being pro-Western and promoting Western culture, including American jazz. At the same time, the Voice of America was airing Willis Conover's jazz programs which in the 1950s also became highly popular among audiences in a Poland, in the Soviet Union and in other Soviet Block countries seeking news about new trends in Western culture. In her own way, Michałowska was doing public diplomacy for the United States, but it could also be said that with her various journalistic activities she and other less dogmatic journalists employed by the state provided a safety valve for the regime. Because of her knowledge of Western media, regime officials consulted her in the 1950s on how to create some of the first television programs in Poland. Przekrój articles written under her pen name Maria Zientarowa, full of sharp humor and irony about the life of two fictional Polish families, were later published in two books and turned into a highly popular 1960s television serial. She penned about a dozen popular novels and translated books by several American authors. The communist authorities understood the need for allowing creative individuals, even those who could not be fully trusted or controlled, to function within the system, thus preventing them from joining the open or underground opposition and distracting the rest of the population with their creative work from the grim realities of life under the socialist economy.
While Michałowska lived in communist-ruled Poland and was the wife of a Polish regime's ambassador, she did not highlight in her journalistic writings and books her previous U.S. government employment and her work at the Voice of America. During the Cold War, publicizing this part of her biography could have been harmful for her literary career even if she had described herself as a progressive, left-leaning VOA broadcaster in support of what became the communist government in Poland. When it became safer after the death of Stalin in 1953 and the regime change in 1956 to a more tolerant but still repressive communist rule, she presented herself as a good friend of Americans and promoter of American literature. It no longer required courage or carried any significant risks being viewed as an expert on American culture and a moderate supporter of more contacts with progressive Americans who were not hostile toward communism and the government in Warsaw. Post-Stalinist communist governments in Poland were generally in favor of good relations with the West that would benefit their ailing state economy while at the same time not straying from the foreign policy line dictated by the Soviet Union.

By translating American authors, Michałowska contributed in her own way to making America more familiar to the Poles and gained some respect and popularity in Poland. It could be said that in her own way she also countered anti-American propaganda produced by hardline regime journalists, including her former VOA colleague Stefan Arski. Despite her earlier political writing and choices, she was not later a one dimensional writer and journalist but appeared to be a rather complex and conflicted personality, which was true also of many other talented Polish writers, artists and intellectuals. Not all of them could or wanted to escape to the West. Realizing their own, similar dilemma, some of the prominent left-leaning political dissidents in Poland also saw her in that light and socialized with her despite her much closer regime connections, both her own and through her husband, a communist diplomat. It does not appear, however, that at any point she openly joined and was active in the anti-regime opposition movement by publishing in the underground press or participating in anti-regime demonstrations, as many of her left-leaning liberal friends eventually did. She chose to work within the communist system even if she at times appeared to work against it or at least perhaps tried to see it reformed.
American government propagandist
Almost no one in Poland or in the United States now or for the past fifty years associates Mira Michałowska with her Voice of America job during World War II. Some of her online biographical entries mention briefly that she had worked for the Office of War Information on producing anti-Nazi propaganda pamphlets, but the OWI name or various names of its wartime Polish-language radio programs, for which she wrote and edited scripts, have no special meaning for the Poles.
Contributing to the confusion about her past were the various names under which she published her books and articles. The author's blurb in her book Nobody Told Me How: A Diplomatic Entertainment, which she wrote under the name Mira Michal said that "Miss Michal worked on the Polish desk of the O.W.I., writing news broadcasts and features for Polish consumption, and when the war was over she worked for two years as a researcher for Time." By then even most Americans would not have known what the letters O.W.I. stood for. Some would have known what the Voice of America was. Her book was published in the United States in the early 1960s by J. B. Lippincott. 3 She was employed by the U.S. government war propaganda outlets, one of which only eventually acquired the Voice of America name. American government-produced radio broadcasts were not yet generally known under this name when she worked there from 1942 until 1944, although she was probably one of the first persons who had used it already in 1943. The wartime VOA broadcasts had no significant impact on the non-communist Polish audience compared to the influence and news value of BBC and other Polish-language radio transmissions from London. It did not help that she and her VOA colleagues censored real news of interest to the Poles, protected Stalin from criticism and aired pro-Soviet propaganda. They did it both on their own initiative and as required by the station's senior management. Their radio broadcasts were heard at that time by very few people in Poland, usually only a handful of news monitors working for the underground Polish authorities and the anti-Nazi resistance. Some of the VOA world news, which was generally accurate if it did not pertain to communism in the Soviet Union and Stalin's real political plans, were copied from time to time in underground news bulletins, but the VOA Polish broadcasts themselves have not been mentioned in any memoirs or documents that I have been able to find with the exception of one booklet written by Złotowska and her colleagues and one highly critical article written by a Polish refugee journalist after the war. There is much more documentary evidence, however, of Złotowska's post-war activities as a writer, journalist and wife of a regime diplomat.
However, only few people in Poland have heard of Michałowska as someone who created propaganda for both the U.S. government and the post-war communist regime in Poland, was married to a high-level communist official or was accused by some Americans of spying. Most Poles remember her as a good writer of generally non-political and interesting articles and novels. Yet for a period of time, this charming, vivacious, mysterious and well-connected woman played an important role in the realm of World War II and Cold War propaganda, politics, and most likely also political espionage.
A tribute from regime journalist
When Mira Michałowska died in 2007, Daniel Passent, another former pro-regime journalist, like her regarded as a reformist for the system that was ultimately unreformable, praised her for winning for Poland many friends in Great Britain and in the United States. He also described her as being a shining jewel in gray and sad Warsaw. They both served the same regime that produced both grayness and above all sadness for many Poles, which does not mean that millions of people in Poland during the Cold War did not lead lives that were meaningful in terms of personal happiness, entertainment and even many fulfilling careers that did not require excessively difficult moral choices. Writers, journalists, most academics and some artists, however, were put in a position of having to make sometimes painful compromises to get well-paying jobs and have their work published or performed in their respective fields. Poland, even under Soviet domination, still needed local press and television journalists for everyday domestic news and information that Radio Free Europe could not easily fully provide since its reporters were completely banned by the regime. If they could somehow appear in Poland (visa requests were refused), they would be arrested and put on trial.

As members of the communist elite, Michałowska and Passent were able to publish in Poland articles and books with somewhat more liberal and reformist messages than those produced by the regime's more hardline supporters among other journalists and writers. Perhaps they both wanted to see the system gradually change through a convergence of Polish-style communism with some form of left-wing Western liberalism. In the end, it did not happen despite some gradual loosening of political repression in response to protests, strikes and demonstrations. In 1981, the communist regime introduced the martial law in response to workers' strikes organized by the Solidarity trade union and within a decade communism in Poland collapsed. Mira Michałowska's usefulness to the regime and the regime itself had reach their end, mostly because the Soviet Union under Mikhail Gorbachev no longer had the stomach for yet another invasion of one of its neighbors. 4

Soft propaganda in America
In the historical context of the period before the Cold War ended, Polish people needed friends in the United States more than ever, but such friends did not have to be also good friends of the communist authorities although in some cases they could not avoid dealing with the regime. That is where Michałowska played an important role as the wife of the ambassador. This soft propaganda role could not be have been played without using disinformation and propaganda. Because the regime lacked popular support and legitimacy, certain facts had to be hidden and lies and half-truths had to be used on naive Westerners. This is quite evident from her book about being the wife of the regime ambassador in London and in New York at the UN. She presented Poland as a normal country ruled by a normal government and represented abroad by a normal diplomatic service. She may have become convinced, however, that it was also normal to mislead her Western readers since she was working on getting both sides together, Americans and pro-regime reformists, in an effort to benefit Poland.
At that time, as events in Hungary in 1956 and in Czechoslovakia in 1968 had shown, Poland could not be taken out of the Soviet orbit without risking a bloody Soviet military invasion of the country or perhaps even a nuclear war with the West. The two options available to the Poles was to strongly but peacefully resist the communist regime through strikes, protests, underground publications and listening to the reformed Voice of America and to even more honest, journalistically superior and much more hard-hitting Radio Free Europe–or to work within the system as more or less loyal participants. Michałowska chose the latter and never altered her course while many others, including some former communists, did switch sides and joined the opposition or left for the West.
As the wife of the Polish ambassador, she may have found some friends among left-leaning American intellectuals, a few magazine editors, and some rich American businessmen, but one group she could not convert to her side were journalists hired after the war to work for the Voice of America Polish Service in Washington. Passent wrote that in Britain and in the United States she helped Polish journalists establish contacts and provided them with useful information. These would have been pro-regime journalists like himself who were allowed to travel abroad. Most Polish-American community leaders and Polish World War II and Cold War refugees were well beyond her ability to convert to the regime side even with her sophisticated and subtle propaganda that the system deep down wanted to be more liberal and wanted to welcome back any former refugee willing to alter his or her earlier opposition to communist rule. Failing to win over Polish political refugees, she continued in the 1950s and the 1960s her work of changing the hearts and minds of Americans to make them appreciate and support left-wing governments in East-Central Europe. This was also her mission when she first came to America in 1940, herself a Polish-Jewish refugee from German-occupied Europe. While she was in France and in the United States, almost all of her Jewish family members in Poland are believed to had murdered in German extermination camps.
Marxists at WWII Voice of America
Voice of America shortwave radio broadcasts targeting foreign audiences in Europe started with a German program which was first aired in February 1942. Mira Złotowska was linked with VOA broadcasting almost from its very beginning. An elegant young woman in her 20s, who spoke Polish, English, French, German and Russian and wrote books and articles in both Polish and English, she was one of the most colorful and talented writers, editors, translators, graphic artists and radio announcers hired by the Office of War Information (OWI) to fight Hitler with anti-Nazi propaganda. But, unknown to most Americans concerned today with Russia's subversion of U.S. media platforms, many of these idealistic World War II Voice of America journalists were at the same time also helping another dictator and mass murderer, Soviet leader Josef Stalin, establish communist regimes in East Central Europe by producing pro-Soviet propaganda and censoring news unfavorable to the Kremlin. Mira Złotowska was only one of many pro-Soviet journalists at the wartime Voice of America. Some of them were more dogmatic Communists than others who may have been Marxist Socialist Democrats or pro-Soviet fellow travelers without any party membership. American supporters of Stalin at OWI were in their majority not intentionally disloyal to the United States, but they were profoundly misinformed about the Soviet Union and fatally naive. One of the most dedicated American Communists who played a key role during the first two years of the Voice of America's existence was a best-selling American author who was later rewarded with the Stalin Peace Prize. He was the former chief writer of Voice of America English news during the war. His name was Howard Fast. Mira Złotowska knew and admired Fast, but at the Office of War Information, she also came under the influence of a dogmatic socialist journalist and propagandist Stefan Arski who after the war became one of the fiercest critics of the United States and anti-communist Polish refugee exiles who remained in the West .
Victims of history or victims of their choices?
Various explanations have been advanced as to why journalists like Mira Złotowska and Stefan Arski chose to support the establishment of pro-Soviet regimes in East-Central Europe. What they saw was the mass extermination of Jews and for reasons still difficult today to explain fully they associated ideas of progressivism and protection of human rights with radical socialism and communism, Soviet Russia and even Stalin himself. During the war, they found a welcoming place at the Voice of America building in New York among Americans who shared their views about Marxism and its presumed benefits for humanity. The usual excuse given then and now was that when faced with rampant and deadly anti-Semitism in Europe and ugly racism in the United States, journalists and intellectuals had no choice but to align themselves with communist parties and the Soviet Union or allow right-wing dictatorships to triumph.
Another argument being made is that a young person in pre-war Europe like Mira Złotowska who faced a growing nationalism and anti-Semitism could only choose to declare herself a communist and support the Soviet Union. It was a false choice promoted by Soviet propaganda, which even many supposedly sophisticated and much older than her journalists embraced without questioning. The New York Times no longer brags about Walter Duranty, its Pulitzer-winning foreign correspondent who lied about Stalin's crimes, but the newspaper does not try to hide his name from history. In the past, The New York Times had acknowledged, albeit timidly, Duranty's duplicity in his denial that millions of Ukrainians and members of other nationalities were starved to death or murdered by communists. The Voice of America has not yet reach that stage of admitting its mistakes. What is rarely mentioned by mainstream media is that these progressive journalists started to repeat messages of a left-wing dictatorship in the fight against right-wing dictatorships. It did not occur to them that an ideology calling for a political system of the dictatorship of the working class based upon class hatred and class struggle would give a single party an absolute power, when its leader or leaders saw it as desirable or convenient, to turn the state against any other group, including Jews or Christians. All these journalists had to do was to study information coming out of the Soviet Union without being blinded by ideology. It was a major failure of critical thinking and honest journalism on their part and on the part of many other left-leaning American and European newspaper writers, editors and other members of the creative group of individuals who shaped public opinion. Luckily, not all liberal journalists were fooled by such communist and Soviet propaganda. Unfortunately, they were in the minority, especially when the United States and the Soviet Union were for a few years military allies fighting against Nazi Germany.
Since history had proved pro-Soviet propagandists wrong and since VOA drastically changed its programming policy toward Russia during the Cold War, Mira Michałowska and Stefan Arski's names and those of other communists and communist-leaning fellow travelers were no longer mentioned in public discussions, in newspaper articles or in scholarly books in connection with U.S. government radio broadcasts. The fact that in collaboration with their agency's top officials, they had duped what later became a U.S. government-run news organization into supporting an ultimately hostile foreign power and a dangerous foreign dictator became such an embarrassment to various new American administrations and the station's management that the story of their subversion had to be obscured and hidden. During the Cold War, this erased and forgotten history allowed Mira Złotowska and a few others like her to renew their soft power propaganda activities in the United States as agents of influence for communist regimes without being easily identified with their similar activities in the past. In fact, what Złotowska and others like her were doing was to target left-leaning and liberal refugee intellectuals who made a different choice and stayed in the West or escaped later rather than be forced to align themselves with a murderous regime. They included such great Polish writers of various ideological and religious backgrounds as Czesław Miłosz, Witold Gombrowicz (who decided to stay in Buenos Aires), Gustaw Herling-Grudziński (Rome, later Naples), Jan Lechoń (New York) and Marian Hemar (London). Those who left Poland rather than to continue to live under communism included Jerzy Kosiński (1956), Marek Hłasko (1958), Aleksander Wat (1959), Irena Krzywicka (1962), Sławomir Mrożek (1963) and Leopold Tyrmand (1965). Some of them were Polish Jews whom Mira Złotowska knew. She translated a book by Jerzy Kosiński. What she could not do was to get the regime to lift the ban on publishing in Poland books by most of these authors who were viewed as overly political and dangerous. When Polish émigré writer Melchior Wańkowicz returned to Poland from exile in the United States and cosigned an open letter in 1964, protesting against the censorship, he was put on trial and sentenced to three years of imprisonment for "spreading anti-Polish propaganda abroad." The sentence was imposed partially due to broadcasting of some of his works by Radio Free Europe, but it was not carried out and he was ultimately released. His trial showed, however, that writers and journalists were expected to cooperate with the regime or face retaliation. Almost all of these refugee or émigré writers, with perhaps one exception, can be described as social and political liberals. Tyrmand was a conservative libertarian. Many of them participated in Radio Free Europe and Voice of America programs.
During the martial law in Poland, imposed by the communist regime of General Wojciech Jaruzelski in 1981, I convinced Czesław Miłosz to participate in the film Let Poland be Poland produced by the United States Information Agency (USIA), which was at the time the parent agency of the Voice of America. The VOA Polish Service, of which I was then in charge, broadcast the audio from Let Poland Be Poland. I also interviewed the Nobel prize winner for VOA broadcasts to Poland. Miłosz was one of the most liberal Polish writers of his generation. I also interviewed for the Voice of America Jan Józef Lipski, a longtime dissident who signed open letters protesting against censorship, organized help for Polish workers imprisoned for their participation in strikes, and in 1987 helped recreate the Polish Socialist Party. I remember that he had refused to meet for the the interview at the luxurious and modern Victoria Hotel in Warsaw, built by the regime with Western loans. It was to him a symbol of the regime's corruption as it was used by the regime's own functionaries their local and Western supporters and enablers. The hotel was also closely watched by the regime's secret police. We met instead at the nearby pre-war Hotel Europejski. During one period of the martial law, Lipski was arrested and kept in a prison hospital because of his heart disease. Some of the earlier Polish Socialists who refused to support the communist regime paid even a higher price for their principled opposition to communism and Soviet influence. Interwar and World war II Polish Socialist Party politician Kazimierz Pużak was imprisoned in Poland and taken to Moscow for the show Trial of the Sixteen of Polish anti-Nazi underground leaders. He died in prison in Poland in 1950. Many liberal political leaders, writers and journalists, including many Socialists, and both Catholic Poles and Jewish Poles, had made quite different political and life choices than Mira Michałowska and Stefan Arski. Many American Socialists and other progressives made quite different choices than another early Voice of American journalist Howard Fast.
Other choices
However, because of an intentionally created memory lapse about choices that these individuals made or choices that could have been made but were not made when confronting dangerous ideologies on the right and on the left, new generations of Voice of America leaders, editors and writers could not learn from the mistakes made during World War II. It is therefore not surprising that they still make some of the same mistakes today as they face propaganda and disinformation from Putin's Russia. An important part of Russian propaganda message today is to divide America and Europe along the same lines promoted by Soviet propagandists at the time Złotowska and Arski were working on Voice of America broadcasts to Poland: one can either be a Fascist and be called a Fascist or be a believer in leftist ideas of Marxism and Socialism. There was no room for dialogue and compromise in that scenario. Everything was either black or white. There was no middle ground.
During World War II and perhaps early in the Cold War, the Soviet Union was to propagandists such as Michałowska and Arski who believed in socialism the only acceptable albeit imperfect liberal model. They were completely wrong on this point, but in their geopolitical assessment of Poland's future they were right. Stalin was going to control Poland no matter what the United States and Great Britain would do short of going to war with the Soviet Union, which was not an option most people in America or in Britain would support. Stalin had the Red Army troops on the ground in East-Central Europe. Obviously, the entire population of Poland could not pack up their belongings and move to Western Europe and the United States. An argument could be made that by going back to Poland to work for the communist regime, some of the more Western-minded communists and communist sympathizers like Michałowska had a moderating impact on the system. It was a self-serving explanation that they had told themselves to justify their political choices. At the same time, they helped to perpetuate regime rule in Poland. There are no easy answers to the question whether ultimately they did more harm or good with their media activities. While living in Poland, they could not tell the whole truth about the regime and the Soviet Union. When they were in the United States during the war, they also would not have been able to tell the whole truth because the pro-Soviet Voice of America management would not have allowed it. However, they also chose to lie and censor on their own. In America, they had many other choices which they did not make. In communist-ruled Poland, their choices were limited if they did not want to risk poverty and repression, but many Poles, including Polish socialists, made different choices. Even if some of them initially supported the regime for practical or idealistic reasons, many withdrew their support later when they realized that it helped to perpetuate its rule.
Putin's Russia today no longer has a liberal appeal, but his aim now is to wage an ideological war and divide Western societies rather than to sell any particular ideology. Michałowska and Arski could serve as examples of what was wrong with left-wing ideological journalism in the first and middle part of the last century when the double threat of German and other forms of European Fascism, American racial segregationism and Soviet Communism desperately called for independent reporting, analysis and solutions that would not result in the death of millions of people and subject even more millions to several decades of virtual enslavement. In a perversion of honest journalism, Michałowska, at least initially, was selling to Poles and Americans as liberal and progressive a political system which, while radically left-wing, also deserved to be called right-wing and repressive. There may have been no geopolitical alternative to Soviet domination over the region immediately after World War II, but the regime in Poland should have been described by Michałowska as totalitarian, just as the Russian government headed by Putin today should also be described as being in charge of a right-wing authoritarian state. Instead, she deceived American readers by reporting that Poland was a country rebuilding itself under a progressive and law abiding government led by forward-looking, progressive and liberal Communists and their socialist allies. Her book about diplomatic family life published in English in the United States in the early 1960s is a classic example of soft-power manipulative public relations and propaganda.
Marriage to Złotowski, a suspected spy
Mira Michałowska was born Mira Zandel on November 23, 1914 in to a middle class family in Łódź, four years before Poland regained independence. In the 1930s, she studied journalism in Warsaw and married a Polish nuclear physicist and chemist, Ignacy Złotowski, who in the 1930s collaborated with double Nobel Prize winner Madame Marie Curie Skłodowska and, after her death, with her daughter Irene, at the Radium Institute in Paris. He also collaborated with Nobel prize winner Jean Frédéric and Irène Joliot-Curie at Laboratory of Nuclear Chemistry at Collège de France. While they were married, Mira Złotowska continued her university studies in Paris. He is sometimes identified in congressional and other American documents as Ignace Złotowski. His scientific collaborators, Jean Frédéric Joliot-Curie, was a prominent member of the French Communist Party and was known to have passed to the Soviets the information he had received about British and American nuclear weapons program. Joliot-Curie was the recipient of the first Stalin Peace Prize, given in 1951. As a foretaste of their later political choices, Ignacy Złotowski and his wife were already moving in communist circles, first in France and later in the United States.
Złotowska and her husband emigrated to America through Casablanca and Lisbon after the German occupation of France. She noted on her OWI job application that she had arrived in New York on November 11, 1940. They may have celebrated her 26th birthday together in the United States, but she and Złotowski would go eventually their separate ways, although it is not known when exactly their marriage and relationship had ended. Professor Złotowski found work as a research assistant at the University of Minnesota School of Chemistry in Minneapolis, was assistant professor at Vassar College and later a professor at the University of Ohio from July 1944 to January 1, 1946. He returned to Poland in 1946 and was appointed as the chief of the American Section in the Foreign Ministry in the communist-dominated government. He was sent back to the United States in October 1946 as an alternate delegate for the United Nations General Assembly session. It was then that he was tainted with accusations of engaging in atomic espionage.
A high-level Polish defector, General Izydor Modelski, a former military attaché at the communist regime's embassy in Washington, testified in April 1949 before the House Subcommittee on Un-American Activities that he became convinced Professor Złotowski, who may or may not have been still at that time Mira Złotowska's husband, was in charge of the intelligence unit attempting to acquire atomic information in the United States. General Modelski, who was a highly-respected military officer in the Polish Army before the war and fought against the Soviets in the 1920 war, told the House subcommittee that he had informed the United States intelligence service that Złotowski "is a Communist," that "he is a scientist" and that his visit to the United States "is not a diplomatic trip." Modelski, who immediately after his arrival in the United States in 1946 started to cooperate secretly with the U.S. intelligence service, said he was quite sure Złotowski was a spy, but he did not know whether any intelligence information gathered by him was passed directly to Poland or to Russia. He speculated that it could have been sent both to Warsaw and to Moscow.
How much Mira Złotowska knew about her husband's alleged spying activities in the United States, or if she knew about them at all, cannot be determined from any documents I have seen. In another congressional testimony, which he gave in May 1949 before the Senate Subcommittee on Immigration and Naturalization of the Judiciary Committee, General Modelski described Professor Złotowski as "a prominent Communist" and "a great scientist" who in 1946 became deputy to Polish communist ambassador in Washington Professor Oskar Lange, a know KGB asset. 5
I could not find the record of Mira Złotowska's eventual divorce from her scientist husband, but she lived in New York when on October 17, 1942 she was hired by the Office of War Information as an assistant script editor (Polish) while her husband worked in Minnesota.
What became known later and may have contributed to spying accusations being made against Mira Złotowska were her contacts in the United States during and after World War II with two individuals whom the KGB regarded as trusted collaborators, one of whom was an intelligence agent and another an important agent of influence. These contacts could have been related to her job as a journalist at the Voice of America or could have been driven by her desire to see a pro-Moscow socialist government being established in Poland after the war, or most likely both. There is no documentary evidence that Mira Złotowska had spied for the Soviet Union at that time or later. She was, however, publicly accused in articles published in the United States in the late 1960s of spying on Americans when after the war she was the wife of the Polish communist regime's ambassador, Jerzy Michałowski, first in London (1946-1953) and later in New York at the U.N. (1956-1960) and at the embassy in Washington (1967-1972). According to the Polish Wikipedia article, she and Michałowski were married in 1947, but there is no specific citation exactly when and where.
Reported arrest for communist ties
Mira Złotowska's archived personnel records show that she apparently lied on her U.S. government job application by responding "No" to the question whether she had ever been arrested. According to a detailed biographical article about her in Polish Wikipedia, she was arrested in Poland in 1935 under suspicion of collaborating with a Communist Party newspaper, but this information lacks a specific citation. The Polish Communist Party was at that time illegal in Poland after it supported the Soviet attack on the country in 1920 and was regarded by the vast majority of Poles as a subversive organization taking orders from Soviet Russia. The investigation of her alleged communist ties was terminated after a few months and she was released from jail without being charged in Poland with any crime. In a twist of historical irony, Stalin ordered the pre-war Communist Party of Poland to be dissolved in 1938 after having many of its leaders who lived in exile in the Soviet Union arrested, tried and executed on various false treason and espionage charges. The post-war Polish Communist Party, which governed the Polish People's Republic from 1948 to 1989, was called the Polish United Workers' Party.
Kliszko and marriage to Michałowski
Mira Michałowska's biographical entry on the Association of Polish Writers website also mentions her marriage to a Communist Party activist Zenon Kliszko before her marriage to Ambassador Michałowski. Rumors of her marriage to Kliszko, which would have been her first marriage, but for which I have not yet seen a definite documentary proof, show that she was regarded as well-connected with the post-war communist elite in Poland, in which Kliszko played a key role. According to one Polish media article, she supposedly rescued Kliszko from prison in pre-war Poland by producing a fake doctor's certificate that he had a mental impairment, but her family doubts that she and Kliszko were ever married. Still, her links with high-level Communist Party leaders made her a sought after figure for Western diplomats and journalists looking for information about the communist system and for access to its various officials, which could explain how accusations of spying might have originated. Kliszko was a high-ranking Polish Communist Party activist who was also arrested during the Stalinist period but later became the right-hand man to the Party's First Secretary and de facto the country's communist ruler Władysław Gomułka.
When Gomułka came to power after the 1956 anti-regime demonstrations and was regarded at first as a communist reformer wanting more independence from the Soviet Union, Złotowska and Kliszko were no longer in a relationship if such a relationship existed in the first place. Many years later, Kliszko was blamed for the regime's decisions which led to student protests in 1968 and the forced exodus from Poland of many Polish Jews, including artists, intellectuals and some party and government officials. The Polish Communist Party and the communist government turned out to be right-wing after all in its treatment of Jews, just as they were repressively right-wing from the very beginning in treating all political opponents. Kliszko was also blamed for decisions to open fire on striking Polish workers in 1970 and was eventually fired from his job and expelled from the Communist Party by the new leader Edward Gierek.
In an article published in Poland in June 2019, a Polish scholar suggested that she and her diplomat-husband became belated victims of the anti-Semitic Communist Party purge when Jerzy Michałowski after retiring from diplomatic service in 1971 was, according to the author, removed from the Party ranks and his wife was banned for several years from traveling abroad because she allegedly, at least at that time, refused to provide the regime's intelligence service with reports about her foreign contacts. The article does not explain how or from whom this information was obtained, but it came from the surviving members of her family. 6
Michałowska, however, may have done well for her writing career by her links with the communist elite in Poland and by marrying one of its ambassadors, as well as by her much earlier decision to leave her job as an editor of propaganda materials for the U.S. government and to return to Poland after the war. If she had to live in Poland, this former Voice of America journalist, as a wife of a key regime diplomat, was able to travel abroad and live in the West instead of spending most of her time under the grim material realities of life under communism. Even if she had married a party apparatchik like Kliszko who would not have been able to travel frequently to the West, as a member of the party aristocracy even her life in Poland would have been, and it was when she was there, still incomparably better than for the majority of ordinary Poles. Living in London, New York and Washington, DC in the 1950s and the 1960s put her in touch with many influential individuals and was good for her writing career. She seemed to take full advantage of the many privileges and perks reserved for the ruling elite in Poland and by all accounts tried to help the regime develop a better and gentler image in the West, just as she was helping to consolidate its power in Poland at the end of the war when she worked on Voice of America broadcasts in the 1940s.
While I found no evidence that Michałowska had supported political violence and repressions, she was permanently loyal to the regime that used intimidation and force well into the 1980s. Stefan Arski, on the other hand, frequently condemned former anti-Nazi Polish fighters living in Poland or as refugees in the West as being fascists and American spies. Michałowska to the best of my knowledge did not use such language. She had far more class and grace than her former colleague at the Voice of America. Her only defense for supporting the regime might have been that the Soviets were ultimately responsible for the suppression of freedom in Poland and that progressive left-wing journalists and writers like her who chose to work for the regime rather than to oppose it openly were in their own way helping the Polish people live slightly better and safer lives by bringing Poland slightly closer to the West within the limits imposed by the Soviet Union and the top leadership of the Communist Party. In addition to writing books and articles, she also translated into Polish books of several American authors, including Ernest Hemingway, Sylvia Plath, E.L. Doctorow, Saul Bellow, Anaïs Nin, Joan Didion, Gore Vidal, Jerzy Kosiński and a few others. She brought America closer to Polish readers living under communism while also helping to keep the regime in place and perhaps trying to give it a more human face.

For most Poles, who rebelled again and again against communism, such attempts to reform it from within by the regime's supporters among writers and artists, were not enough. Opponents of communism realized that there were millions of them when Pope John Paul II made his first visit to Poland in 1979. At that point, the regime was already doomed to fall. Many of the left-leaning intellectuals who initially supported the communist system eventually became activists in the anti-communist opposition. Mira Michałowska did not appear in that group. To my knowledge, she never issued any public apologies for her propaganda work in support of communist regimes.
Office of War Information
At the Office of War Information, Złotowska worked as an editor and writer of Voice of America background materials and radio scripts, but in May 1943 she transferred to the Overseas Publication division which produced propaganda leaflets and pamphlets for distribution in countries under German occupation. I was not able to determine whether she had voiced on the air any of the Voice of America scripts she had edited or written. She no doubt made a considerable contribution to the pro-Soviet propaganda effort and her work was used to target not only Poles in German-occupied Poland but also Americans, including Polish-Americans, since OWI was producing propaganda for both foreign and domestic consumption.
Under inmediate supervision of a Script Editor (Polish), CAF-11, is responsible for collecting, analyzing, and digesting restricted and unrestricted reports and information material to be used as background for the less important Polish news and feature scripts transmitted by short-wave radio broadcasts to a predetermined Polish area; under close supervision and using themes and.styles suggested by higher grade script editors writes less important radio scripts in Polish; performs other research work as assigned using as information sources newspaper clippings, publication and standard reference works; keeps informed on source material in the International Press and Radio Bureau for possible use; performs similar duties as assigned.
Under general supervision of the Specialties Editor CAF-11, in charge of the 5th Regional Unit assists her in the origination and production of important propaganda specialties, novelty publications, booklets, pamphlets, posters and other items to be disseminated to a specific foreign country held by the enemy; is particularly responsible for the planning and execution of a monthly miniature magazine of about 10,000 words; selects the material to be used and does the necessary research; rewrites and adapts articles and stories, (mainly writes original material;) writes in the specified foreign language and submits a rough translation to the Principal Propaganda Analyst in the Office of Control, for policy clearance; plans the format and supervises the technical production of the magazine and the shipment, assists in creating other publication projects such as inserts and leaflets; edits and proofreads copy; performs related functions as required.
One miniature OWI propaganda booklet (2 and 1/4 by 1 and 3/4 inches) in support of Soviet Russia and radical socialism, which may have been produced by Mira Złotowska or one of her Polish colleagues, is in the collection of the Cold War Radio online museum. It contains Polish translations of excerpts from speeches by Vice President Henry A. Wallace whose naive references to the Soviet Union would have been dismissed as ludicrous by almost any Pole who spent any time as a slave laborer in the Soviet Gulag and saw first hand how Poles, Russians, Ukrainians, Tatars, Christians, Jews and other groups were treated by Soviet communists. The Polish propaganda booklet cannot be, however, definitely attributed to Złotowska. Henry Wallace, served as Secretary of Agriculture under President Roosevelt from 1933 to 1940 and as Vice President from 1941 to 1945, eventually publicly disavowed his speeches and statements praising Soviet socialism and Josef Stalin.
Złotowska seemed to had been highly valued for her propaganda work by her Office of War Information superiors and they wanted to see advance in her government career. One rapid promotion request was, however, questioned in September 1943 by an OWI manager who observed that "there is still not sufficient concrete evidence of exceptional performance." She received, however, an excellent efficiency rating. An undated justification for "rapid promotion" when Złotowska worked for the OWI unit producing propaganda pamphlets for overseas consumption, described her educational and work background more or less accurately but without mentioning her collaboration with a Communist Party newspaper, for which she was briefly arrested in Poland.
Mrs. Zlotowska has studied at the College of Journalism in Warsaw, at the Colege de France and the Ecole des Sciences Politiques in Paris. She has started her newspaperwork in 1935, writing for a year a column for the Warsaw daily "Dzien Dobry". Later she went to Paris and was correspondent for several newspapers and magazines. She wrote a series of articles on English literature for the oldest Polish Literary Magazine "Tygodnik Ilustrowany". During the first year of the war she was assistant editor to the Polish Weekly in Paris "Czarno na Białem." In the United States she published a number of articles for different Polish language newspapers. Last winter she wrote and arranged a pamphlet "Unconquered Poland", now at its third edition with a total circulation of 100,000 copies to date. It is a propaganda pamphlet on the resistance of the Polish people. It had a great number of excellent press reviews and has been repeatedly called the best propaganda pamphlet of its kind.

During the time Mrs. Zlotowska is with this unit, she has displayed great intelligence in the handling of her work. She has distinguished herself by her writing ability, by her ingenuity and unremitting diligence. She has both written and edited original material, translated the same at the rate of over 10,000 words per month. She has shown good judgement and real initiative. She has also contributed projects of real value to the war effort and has been responsible for valuable suggestions and original ideas. Her record for the past and her actual work more than justify the reclassification to higher rating here requested.
Stefan Arski
While at OWI, Złotowska worked closely with another Polish journalist, Stefan Arski, who might have been her romantic partner. His real name was Artur Salman. In addition to Stefan Arski, he also had other pseudonyms and pen names: Jan Wiljan, Leliwa, Roman Warecki, S. Kalinowski and Star. Arski was an activist in the Polish Socialist Party, which was legal in Poland in the interwar period. Socialist politicians participated in various pre-war coalition governments in Warsaw and were represented in the wartime Polish government-in-exile in London. After the war, Michałowska's colleague became a high-ranking Communist Party member in Poland, a Communist Party newspaper editor and a prolific writer of anti-U.S. propaganda.
While Michałowska engaged in soft propaganda and what could be described as public diplomacy in support of the communist regime, Arski was a conventional, stop at nothing propagandist. He is particularly known for his vehement denials of Soviet responsibility for the Katyn massacre of thousands of Polish POW military officers, which he did in Voice of America broadcasts and later in newspaper articles in communist-ruled Poland. He is also known for launching vicious personal attacks on journalists working after the war for the already reformed Voice of America, his former U.S. government employer, where he remained on the payroll until February 15, 1947. When he quit his U.S. government job, VOA was already under the U.S. State Department. Złotowska had left VOA in 1944. 7
After leaving his U.S. government position, Arski worked briefly after the war as American correspondent of the Warsaw Socialist newspaper, Robotnik. During that time, he authored a booklet on Poland's Western border published in 1947 by the Polish communist regime's embassy in Washington where his friend and KGB agent of influence and intelligence asset Oskar R. Lange was the ambassador. The biographical note at the end of Arski's book published in 1947 by the embassy in Washington identifies his connection to the U.S. Office of War Information where the Voice of America radio programs, on which he worked, originated during World War II.
Irena Maria Balińska
Another Polish-born journalist employed by the Office of War Information during World War II who collaborated with Arski and Złotowska was Irena Maria Balińska. Her OWI personnel records do not show her working directly on Voice of America broadcasts as she was in the unit producing printed propaganda. After the war, she was identified in a congressional testimony as a pro-communist regime propagandist in the United States.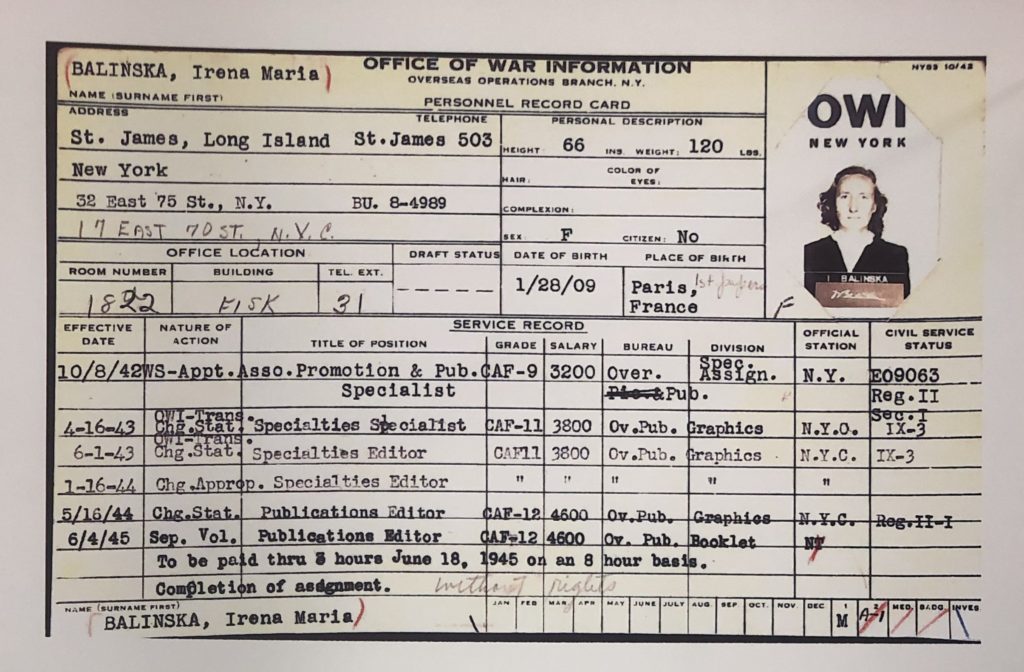 Adolf Hoffmeister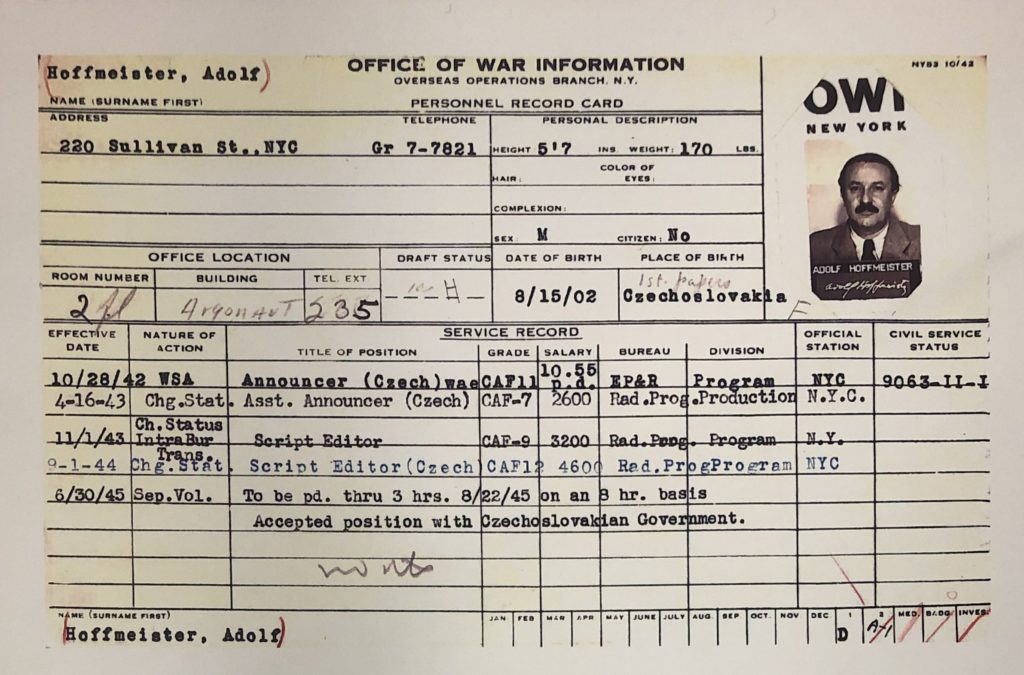 A prominent member of the circle of radically leftist VOA journalists was a talented writer and graphic artist, Dr. Adolf Hoffmeister, who after the war served as the Czechoslovak communist regime's ambassador to France.

A notation on Hoffmeister's OWI personnel record card said that he had resigned on June 30, 1945 and "Accepted position with Czechoslovakian Government."
In his resignation memorandum to the assistant chief of the Office of War Information Language Division, dated June 9, 1945, Adolf Hoffmeister noted the offer he received to work for the Czechoslovak Government in "an official capacity." He became the regime's ambassador to France.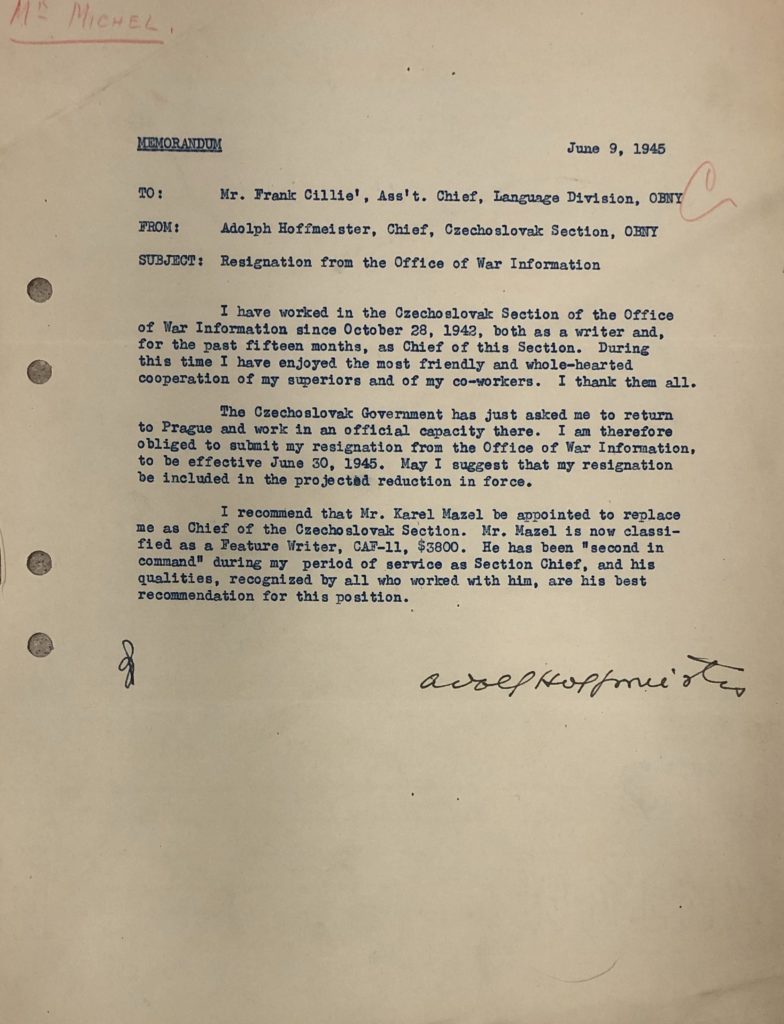 MEMORANDUM
June 9, 1945
TO: Mr. Frank Cillie, Ass't. Chief, Language Division, OBNY
FROM: Adolf Hoffmeister, Chief, Czechoslovak Section, OBNY
SUBJECT: Resignation From the Office of War Information
I have worked in the Czechoslovak Section of the Office of War Information since October 28, 1942, both as a writer and, for the past fifteen months, as Chief of this Section. During this time I have enjoyed the most friendly and whole-hearted cooperation of my superiors and of my co-workers. I thank them all.

The Czechoslovak Government has just asked me to return to Prague and work in an official capacity there. I am therefore obliged to submit my resignation from the Office of War Information, to be effective June 30, 1945. May I suggest that my resignation be included in the projected reduction in force.

I recommend that Mr. Karel Mazel be appointed to replace me as Chief of the Czechoslovak Section. Mr. Hazel is now classified as a Feature Writer, CAF-11, $3800. He has been "second in command" during my period of service as Section Chief, and his qualities, recognized by all who worked with him, are his best recommendation for this position.

Anti-Nazi Socialist pamphlet
In 1943, Arski, Złotowska, Hoffmeister and possibly some other OWI employees published in the United States a socialist propaganda pamphlet, written in English and illustrated by Hoffmeister, which called for establishing "People's Poland" and imposition of "democratic control of a planned economy and industry." The pamphlet was not ostensibly in favor of Soviet rule and full Soviet communism. It called for "a free, independent and democratic Poland," but it included a Marxist call for "A just distribution of the national income and work as the only title to a share of this income."
The pamphlet also advocated "Land reform, expropriating of great landed estates and creating small sound holdings for peasants, and their inclusion in a wide network of cooperatives." Some of these were code words for what the Soviets and communists wanted to see happen in Poland: state planned and controlled economy and Soviet style kolkhoz farms. Only the most naive journalists or fellow travelers could think that Poland would be democratic under such a program and could be independent from the Soviet Union. The pamphlet also falsely gave Polish Socialists almost all the credit for organizing anti-Nazi resistance.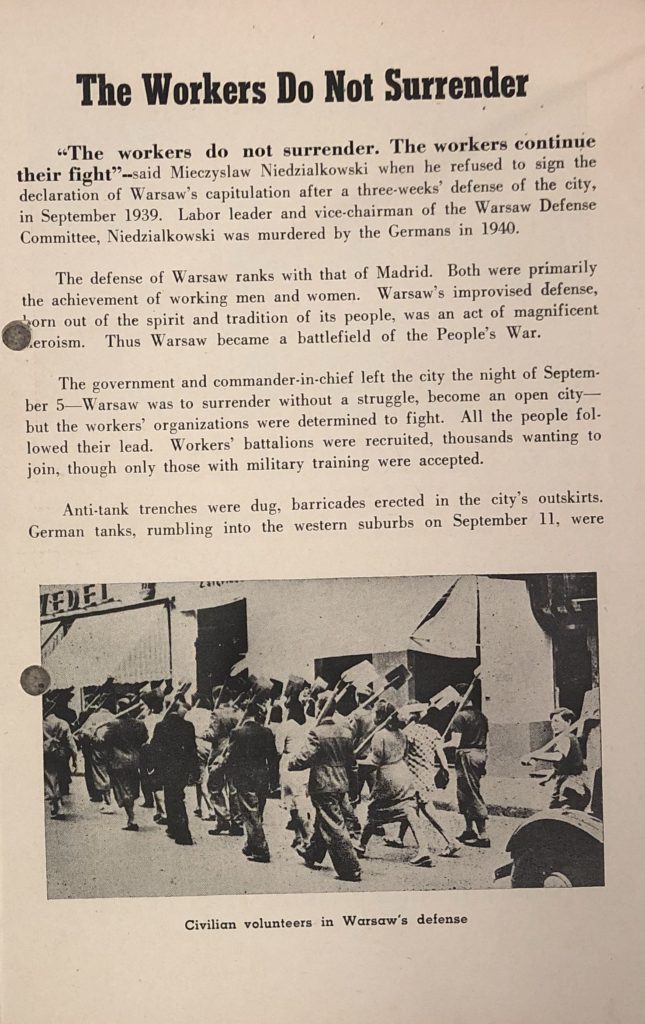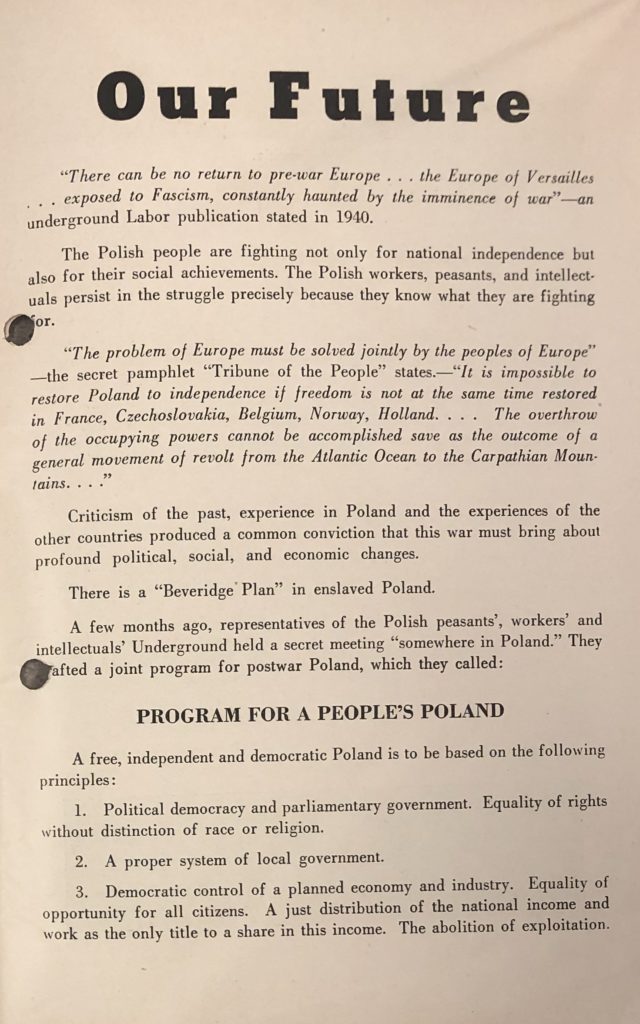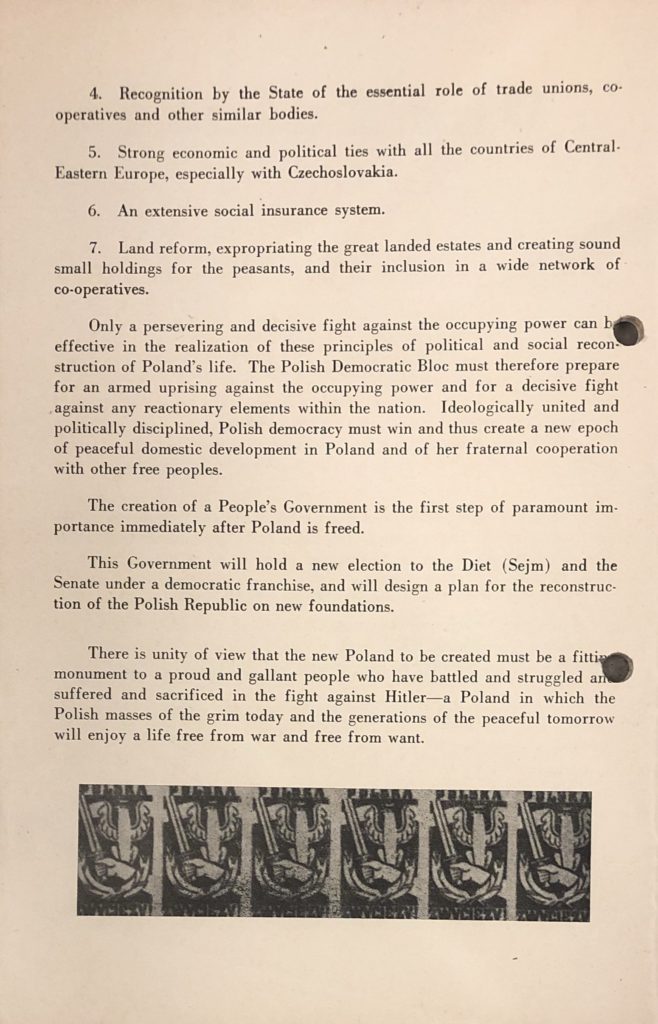 Much of the information in the pamphlet about the German occupation of Poland, illustrated by Hoffmeister and most likely written by Złotowska and Arski, was true, but most of the presented information about the Polish anti-Nazi underground army and the Polish underground state was highly misleading, with many key facts omitted or distorted to make it appear that the Poles in German-occupied Poland and Polish refugees abroad were overwhelmingly in favor of establishing a socialist government after the defeat of Germany. While the role of Soviet Russia was not emphasized by the authors, for all practical purposes it was a propaganda pamphlet that the Soviets would welcome.
A copy of the pamphlet at the National Archives includes handwritten signatures of Mira Złotowska, Stefan Arski and Adolf Hoffmeister. A few other signatures are not legible. The signatures are on the page which includes a quote from a speech by President Franklin D. Roosevelt. The pamphlet was found in Mira Złotowska's Office of War Information official personnel records file stored at the National Archives in St. Louis, MO.
The 1943, pamphlet was officially published not by the Office of War Information but by a Polish socialist organization in New York supported by OWI. "Poland Fights" was also supported by the Polish government-in-exile in London before Arski and Złotowska declared their loyalty to the communist government in Poland backed by Soviet Russia.

Early in the war, the OWI management actually subsidized some socialist publications in the United States as part of its anti-German propaganda effort and encouraged its employees to contribute articles. Such outside activities by U.S. government employees during the war had to have prior approval from their OWI superiors, many of whom were themselves believers in socialism and strong supporters of the Soviet Union. However, Socialists and Communists never had a large following in Poland, where the largest population group were Polish Catholic farmers. Trying to convince them of the benefits of socialism and Stalin's good will would hardly make them more willing to resist the Nazis. The vast majority of members of the Polish underground army was opposed to socialism and Russia's influence in Poland.
But while the Soviet Union was at the time America's most important military ally in the war against Hitler's Germany, Roosevelt administration officials failed to foresee the long-term consequences of their propaganda strategy. The second mistake of the pro-Soviet OWI management was their failure to realize that some of their socialist-leaning employees in charge of producing Voice of America broadcasts were not Social Democrats but authoritarian Socialists who who would soon join communist governments in East-Central Europe. All the governments in East-Central Europe, which came to power with the help of the Red Army, became in reality totalitarian communist regimes taking orders from the Soviet Union. These former Voice of America journalists, who during the war expressed support for both socialism and democracy, after the war chose to support communist dictatorships. They were unwilling to admit that they had become indirect accomplices in mass repressions, torture and murder.
Early mention of Voice of America
The 1943 propaganda pamphlet in support of establishing socialist governments in East-Central Europe friendly to the Soviet Union may be also one of the first printed documents in which U.S. government's shortwave radio broadcasts during World War II are referred to as the "Voice of America." Voice of America did not become the official name of the these broadcasts until sometime after the war. Various names were used during and shortly after the war. "America Calling Europe" was one of the early names of VOA Polish radio programs. Mira Złotowska may have been the first one to promote the name which later was adopted as the official name of the U.S. government radio broadcasting operation, first based in New York and after 1953 in Washington, DC. In what may be another historical irony, VOA's first chief news writer Howard Fast, a dogmatic Communist for most of his life, claimed in his book Being Red that he was the one who proposed Yankee Doodle as VOA's signature tune, but other accounts suggest that Yankee Doodle was adopted after he had left VOA. As a historical footnote, I should add that Fast left the Communist Party USA in 1957 after Soviet leader Nikita Khrushchev denounced Stalin's crimes in what was initially his secret speech to party leaders. However, he continued to defend Marxism and the Soviet Union.
. . . this is the Voice ot America —— calling the People of Poland . . .
It is a crime to listen to foreign broadcasts in Poland, punishable by 10 years in prison. It means death to be caught spreading foreign news.
However, that does not deter Poles from coming together, every night, in cellars and attics, to listen to a radio, to the Voice of America and the BBC.
The radio is the chief source of news for editors of underground papers. Thus, the British Eighth Army's victory at El Alamein was known in Warsaw only 24 hours later than in New York. When American troops landed in North Africa, Poles in Poland knew it only a few hours after it was known in New York.
The Voice of America receives full acknowledgement from the Polish underound press. It prints speeches of President Roosevelt and Vice President Wallace, runs long editorials on American war aims, analyzes the South Pacific war front.
But there is a trick to listening to the Voice of America—reception must be reduced to a whisper, one's ear must be glued to the
loudspeaker. There is constant German jamming, the threat of the Gestapo agents patrolling the streets outside one's house, and the Volksdeutsche who is one's neighbor.
Still, you listen and tell your friends the next day. They tell their triends. and so on, till all know the truth. Listening to the Voice ot America is another form of resistance."
Little in this description of World War II Voice of America broadcasts was fully accurate. Very few Poles living under the German occupation had radios. They had been confiscated from the Poles by the Germans. Voice of America programs had very little information most relevant to the Poles living in a Poland under German occupation. VOA would not broadcast news about Polish prisoners murdered in Soviet Russia who had families in Poland looking for them. There was also very little news in VOA broadcasts from or about Poland. The Polish underground state sent its news reports by radio to Britain from where they were later broadcast back to Poland by the Polish radio station "Świt" and the Polish Service of the BBC.
Early critics of Voice of America
As for the usefulness of Voice of America radio programs in Polish during World War II, according to one contemporary listener to VOA wartime broadcasts from New York, a Left-leaning Polish Peasant Party politician, Stanisław Mikołajczyk, who had served as Prime Minister in the Polish government-in-exile in London and later even joined briefly the communist government in Warsaw after the war before fleeing to the West to save his life:
[Voice of America wartime radio broadcasts] might well have emanated from Moscow itself. 8
The entire propaganda pamphlet produced by Voice of America journalists was highly misleading. The pamphlet was designed for Americans who lacked any first-hand knowledge of the Soviet regime and its atrocities. But its socialist and Marxist messages were also alien to the majority of Americans. They were even more alien to the Poles whose country was invaded and occupied in 1939 by both Nazi Germany and Soviet Russia. Many Poles, especially those who in 1940-1941 had been deported by Stalin to the Gulag slave labor camps in Siberia could not be persuaded by such VOA pro-socialist and pro-Soviet propaganda.
It is true that the authors of the pamphlet did not use too many outright lies, but they omitted many critical facts and distorted others to hide the true nature of the Soviet regime. If they did not know who Stalin really was, these early VOA journalists were extremely naive. It is more likely that they did know but were blinded by their ideological zeal.
While the Voice of America was spreading pro-Soviet propaganda abroad, OWI officials, including future U.S. Senator from Alan Cranston (D-CA), were trying in violation of U.S. laws to shut down Polish American radio stations and newspapers which reported the truth on the Soviet mass murder of Polish military officers at Katyn. Cranston's boss, OWI director Elmer Davis, recorded broadcasts for domestic U.S. radio networks in support of the Soviet Katyn lie. Initially, OWI had a multimillion dollar budget for domestic propaganda targeting Americans, but by 1944 many concerned members of Congress of both parties eliminated almost all the funding for domestic propaganda activities while only partly reducing OWI's budget for Voice of America radio broadcasts and printed propaganda abroad after learning that some VOA journalists were communists or fellow travelers and after discovering some of Mr. Cranston's activities. 9 Another high-level OWI official, Hollywood playwright and President Roosevelt's speechwriter Robert E. Sherwood, was coordinating Voice of America propaganda with Soviet propaganda.
While all three authors who autographed the propaganda pamphlet presented themselves during the war as progressive Socialists, after the war they joined Soviet-backed communist regimes in Poland and Czechoslovakia. They did not put hundreds of thousands of political opponents in prison or condemned anti-Communists to death, but for many years they served the regimes which did commit terrific crimes and human right violations. They did not follow the path of future Polish Nobel Prize winner in literature Czesław Miłosz who quickly grasped the murderous nature of communist totalitarian regimes. Miłosz who defected to the West after serving briefly the communist government as a diplomat described in his 1953 book The Captive Mind how leftist intellectuals were seduced by Stalin and communist propaganda to become his faithful servants and defenders of the communist order.
Bialer on Arski
One of the refugees from Communism who after the war tried to educate Americans about the work of pro-Kremlin propagandists in the United States and in Poland was Seweryn Bialer, himself an ex-Communist who after his defection to the West became later a respected scholar and professor of Soviet studies at Columbia University. He was helped by his interpreter, another famous refugee, Jan Karski, himself always an anti-Communist, a former fighter in the Polish underground anti-Nazi resistance movement and recipient of Righteous Among the Nations medal for helping to bring the world's attention to the extermination of Jews by German Nazis during the Holocaust. Testifying before a U.S. Senate subcommittee in June 1956, Seweryn Bialer spoke about Stefan Arski, a former Voice of America editor and Mira Michałowska's presumed ex-partner.
Mr. Stefan Arski is presently in Poland. He is a journalist, and one of the most violently anti-western and anti-American journalists. He specializes in American affairs, and he contributes mostly to the People's Tribune, an official organ of the Communist Party in Poland. He wrote several books which we used as a kind of basis for our anti-American propaganda.
More critics of Voice of America
Some would argue that Arski, Hoffmeister and Złotowska were not just innocent well-meaning progressive journalists, Voice of America broadcasters, artists and intellectuals. They used their considerable talents in the service of a deadly totalitarian ideology. They produced propaganda against Hitler, who was a dictator and mass murderer, while at the same time spreading propaganda in favor of another mass murderer and dictator, Josef Stalin. However, it could be said in their defense—more in the case of Michałowska and Hoffmeister than Arski—that at least they did not commit any known crimes against other Poles or Czechs and in their positions of influence within the communist regimes were better for the general welfare of the people in their respective countries than other more hardline officials would have been had they taken their place. To his credit, later in his life Hoffmeister broke his ties to the communist regime in Czechoslovakia. To my knowledge, Michalowska never did.
Their propaganda activities as Voice of America journalists were not, however, a totally victimless lapse of judgement. One secret source told the CIA in the 1950s that the Voice of America may have contributed to imprisonment and deaths of some Czechoslovaks with its pro-Soviet propaganda. A few refugees who had returned to Poland and Czechoslovakia from the West after the war may have been convinced by the Voice of America or propaganda pamphlets produced by these journalists that the pro-Soviet governments would be democratic and would follow the rule of law. "A great deal of harm can be done by irresponsible broadcasting," the CIA source warned.
Fortunately, for the sake of their lives and safety of their families, the vast majority of wartime refugees, including thousands of Polish and Czechoslovak soldiers who had fought against Hitler's armies as Britain's and America's allies, chose the life of being political exiles in the West. Many of them were former prisoners in the Soviet Gulag. They were not duped by Voice of America's pro-Soviet broadcasts, but many of them could not return to their home countries for many decades, although later some travel behind the Iron Curtain became possible. The majority became silenced and forgotten refugees. Others worked for Radio Free Europe and the Voice of America or were frequent participants in their programs.
During World War II, however, Soviet influence reached the very top of the U.S. government broadcasting agency and was not limited to journalists producing radio programs in foreign languages. In addition to broadcasting Soviet propaganda, Voice of America officials and editors banned Stalin's critics. Some of these bans and partial censorship continued for a few years after the war.
Howard Fast – VOA – Stalin Peace Prize
While Michałowska, Arski and Hoffmeister worked on OWI's foreign desks, the chief news writer and news director for the entire Voice of America was Howard Fast who after leaving VOA in 1944 joined the Communist Party USA, worked as a reporter for its newspaper and in 1953 was awarded with the Stalin International Peace Prize worth about $235,000 in today's dollars. While being in charge of the radio newsroom, he admitted later that his source of news about Russia was the Soviet Embassy in Washington. He also wrote in his book Being Red that he eliminated news and information unfavorable to the Soviet Union as anti-Soviet propaganda. Fast was a talented, best-selling author of dozens of books, including Spartacus, which was made into a Hollywood movie starring Kirk Douglas. He served a brief prison term after being convicted in the 1950s on charges of contempt of Congress for refusing to reveal names of members in a Soviet front organization. He became one of the victims of the McCarthy period. Mira Złotowska translated into Polish Fast's best-selling book Citizen Tom Paine. His book was published in Poland in 1948.
Sumner Welles on Houseman and Communists
Most if not all of foreign language desks producing Voice of America radio broadcasts, at that time still under various names, were dominated by Soviet sympathizers and communists, but the Soviets had an important ally among the very top ranks of the Office of War Information U.S. government agency. Many of rank-and-file journalists and radio announcers were hired by VOA's pro-Soviet first director, future Hollywood Oscar-winning actor John Houseman, from among his communist and radically left-leaning friends and associates in the theatre and radio world. He was forced to resign in 1943 when President Roosevelt's close friend, Under Secretary of State Sumner Welles, warned the White House that Houseman's support for radical communists made him a security risk.
The memo included a comment on the fascination of some American liberals for Soviet communism and urged finding other liberal individuals—not communist sympathizers—to be put in charge of U.S. government programs.
If it is desired to give a distinctly liberal cast to these organisations, it would seem possible to find men who are liberal in the light of their own conviction, and of the American ideal, rather than men who have, for one reason or another, elected to give expression to their liberalism primarily by joining Communist front organizations, and apparently sacrificing their independence of thought and action to the direction of a distinctly European movement.
The 1943 State Department memo is a timely warning about U.S. government officials and government-employed journalists who for either ideological, partisan or business reasons may be compromised in carrying out their duties. It included one of the best descriptions of how Soviet propaganda and disinformation worked then in an eerily similar fashion to how Russian propaganda and disinformation are employed now against democratic governments and democratic elections.
The records of the men involved seem to indicate that should there be a divergence between the policy of the States and the policy of Soviet Russia, these men, with a large degree of control of the American machinery of war making, would probably follow the line taken by Russia, rather than the line taken by the United States.
The 1943 State Department memo also warned:
It has been the theory of this Department that, outside of Soviet Russia, most of the groups struggling for expression desire freedom and a chance to find their own way, and that they have looked to the United States, rather than to the Russian collectivism, as offering the hope of achieving both social advance and individual freedom. The concern which we have is that the men asked to state, represent and carry out American policy shall be men who both understand that policy, and will be loyal to it, rather than to any outside connection.
The 1943 Sumner Welles' State Department memo also included a prophetic warning in light of the 2016 Russian propaganda and disinformation campaign targeting American voters to change their views about American politicians disliked by the Kremlin.
They have included a continued and bitter hostility to the Government of General Vargas in Brazil; to the present Peruvian Government; and to a considerable number of officials in the United States Government who are deemed inconvenient.
All of these individuals are reported to have been actively connected either with the Communist movement, or with organisations for liberal purposes commonly known as "front" organizations, whose impetus came from Communist sources.
It is recognized that mere membership in a "front" organisation does not itself prove that the individual was a Communist or under Communist control, since sincere liberals have frequently joined these organizations. But practically every informed investigator has developed the fact that the Communist underground organization in America has made a practice of using these "causes" and "front" organizations as a means of interfiltrating [sic] into various positions men who could be counted upon to obey implicitly directives given by the Communist Party officials.
It is further clear that the Communist Party is only secondarily interested in Communism as such, either for the United States or elsewhere. Its primary activity consists in supporting the interests of the Soviet Government, irrespective of whether these interests happen to coincide with the interests of the United States or not. Thus, the directives given do not limit themselves to endeavoring to assure a Russian victory, which is in the intereet of the United States, and towards which every possible activity of the Department is directed. They also include a variety of objectives directed at various times against General Sikorski and the Polish Government; General Mikhailovich, in Yugoslavia; the British Government in India; General Franco's Government in Spain; against the possible survival of the Baltic republics; against the possible assimilation of the Social Democrats in Italy; and against the unification of the French under auspices other than those supported by the Communist Party, which happens to be, at the moment, General de Gaulle. They have included a continued and bitter hostility to the Government of General Vargas in Brazil; to the present Peruvian Government; and to a considerable number of officials in the United States Government who are deemed inconvenient. 10
Sumner Welles' memorandum accurately described what Złotowska, Arski and Hoffmeister and many other pro-Soviet journalists were doing at the Voice of America under instructions from John Houseman and OWI's top leaders: hapless and left-leaning Elmer Davis, left-leaning Robert E. Sherwood, and radically left-leaning Joseph Barnes. In the end, only Barnes was forced to resign. At times, rank-and-file journalists working for Barnes and Houseman went even much beyond what the senior agency leadership wanted them to do. While the Roosevelt administration was already strongly pro-Soviet since Russia became the most important military ally against Germany after the Hitler-Stalin alliance had collapsed, the State Department and the U.S. military, including General Dwight D. Eisenhower, feared that communists and fellow travelers hired by Houseman could put Russia's interests ahead of America's national interests. Voice of America's rank-and-file pro-Soviet journalists were not identified by name in the Sumner Welles' memorandum. There would have been too many of them to be all listed.
The secret memo focused on John Houseman and his immediate boss and close friend Joseph Barnes. An addendum about John Houseman justifying the State Department's decision not to allow him to travel abroad on behalf of the U.S. government stated that "Military authorities consider [Houseman] should remain [in the] United States for the duration [of the war]." Without mentioning any names, President Eisenhower accused later some of these OWI and VOA officials and journalists of "insubordination." 11 When they did cross the line in some of the VOA radio broadcasts, the State Department refused to provide Houseman with a U.S. passport for official travel abroad in order to force his resignation. Leftist journalists like Michałowska, Arski and Hoffmeister and many others were too low within the government ranks to be noticed and continued their work at VOA.
Julius Epstein on VOA's German Communists
The VOA Polish Service was not unique in pro-Soviet sympathies of most of its editors and writers.VOA hiring practices, although not specifically in reference to Houseman, were noted by one of OWI's World War II era German-language editors, Austrian-Jewish refugee journalist Julius Epstein who himself had been for a few months a member of the German Communist Party in his student years in Germany, understood communist propaganda and was able to tell who among German and Austrian refugees in the United States were engaging in propaganda activities in support of the Soviet Union.
When I, in 1942, entered the services of what was then the 'Coordinator of Information' which became after a few months the O.W.I., I was immediately struck by the fact that the German desk was almost completely seized by extreme left-wingers who indulged in a purely and exaggerated pro-Stalinist propaganda. 12
VOA Director John Houseman
Voice of America's Katyn and Gulag lies
One of the lies in early Voice of America broadcasts to protect the Soviet Union and Stalin was about the Gulag prison labor camps and its millions of victims, including Polish women and children. If one listened to these VOA radio programs from 1942 to 1945 and even for a few years more, such camps did not exist and no one was fleeing Soviet Russia during the war because they might have been afraid of Stalin and communism. One would not learn from World War II VOA radio broadcasts and OWI propaganda pamphlets about hundreds of thousands of Polish citizens and their entire families living in territories occupied by the Soviet Union under the terms of the Molotov-Ribentropp (Hitler-Stalin) Pact who had been deported on Stalin's orders to Siberia or to Soviet Central Asia to be used as slave laborers. Many died and many of those who managed to survive never returned to Poland.
A U.S. government World War II document stored at the National Archives in College Park, MD offers a rare glimpse into how the Office of War Information, which was in charge of both domestic and foreign U.S. government propaganda, tried to deceive American and foreign audiences about Polish refugee children from Russia in order to protect Stalin's reputation and America's alliance with the Soviet Union. By then, Russia was admittedly the most important U.S. military ally against Nazi Germany, but only after Hitler broke his previous pact with Stalin and attacked the Soviet Union in 1941. The children who came from the eastern part of Poland occupied by the Red Army in 1939 were not victims of Hitler's Fascism as OWI and VOA broadcasts tried to present them; they were victims of Stalin's totalitarian Communism. They never saw any Germans occupiers. As the Polish American newspaper Nowy Świat ("New World") pointed out in January 1944, they were arrested with their parents by the Soviets and sent to the Gulag slave labor camps.
The OWI purposely omitted the explanation and has not added that these tragic children came from Russia, that they forgot to smile there, that they learned there of hunger and want, that they there learned of fear.

A careless reader may gain the impression that with the beginning of the war, some group of Poles started on their journey to America, and after four years, had reached this continent. Not a word about the fact that together with millions of Polish citizens this group of refugees which has now reached Mexico was deported from Poland by the Soviets and was kept by Russia under the most miserable conditions. But seeing the obvious is not a virtue with the OWI. That Office is not evidently free from fear. (Fear) before whom?
In its January 4, 1944 editorial, Nowy Świat, correctly assessed U.S. government's propaganda and censorship. The government press release included a kernel of truth, but it was otherwise designed to deceive. It is quite possible that at least Arski, if not also Złotowska, were involved in drafting the OWI press release, especially since Arski was already busy denying Stalin's responsibility for ordering the murder of thousands of Polish military officers.
The first transport of 706 Polish refugees, including 166 children, aboard the USS Hermitage reached the San Pedro naval dock near Los Angeles on June 25, 1943. The women and children under 14 years of age were placed in the Griffith Park Internment Camp in Burbank and the men in the Alien Camp in Tuna Canyon. The second group of 726 Polish refugees including 408 children, mostly orphans (their parents were either worked to death or executed by the Soviets) arrived on the USS Hermitage in the fall of 1943 and was placed in the Santa Anita former detention camp for Japanese Americans. It was the second group that was mentioned in the misleading press release from the Office of War Information. They were later transported to Mexico in sealed train cars under U.S. military guard to prevent them from escaping or having any contacts with ordinary Americans and journalists. None of the Polish refugees in these groups tried to escape. After the war, most of them were allowed to settle in the United States. They could not return to Poland without facing a risk of imprisonment or other forms of persecution, but Złotowska and Arski continued to tell VOA audiences and Americans that there was nothing to fear from the Soviet backed Polish socialists and communists who formed first an interim and later a permanent government in Poland. The permanent government included at first some Polish Peasant Party politicians who soon had to flee from Poland or face arrests and possibly murder.
Part of this history relating to Soviet influence over the wartime Voice of America, its current officials and public affairs specialists do not want Americans to know despite the fact that Russia under Vladimir Putin is once again using similar influence operations to subvert American journalism and media. This is both unfortunate for the sake of historical truth and dangerous for journalism, especially coming from an organization that wants to have an image of engaging in independent news reporting in support of freedom and democracy. Refusal to acknowledge the true history of the organization, both its considerable successes and its initial failures, undermines its current and future effectiveness.

Spying accusations
What makes Mira Mira Złotowska Michałowka's later life story even more sensational in this historical context are her propaganda activities in the United States after the war and her alleged spying for the Warsaw regime. She returned to America in the 1960s as the wife of the ambassador of the Polish People's Republic and became an active diplomatic hostess in New York and in Washington. She was described in an article inserted by a member of Congress in the Congressional Record in 1968 as "a thoroughly modern Mata Hari," a reference to the famous courtesan who was executed in France during World War I on charges of spying for Germany. 13 Whether she was spying or not, she was definitely involved in the ultimately unsuccessful business of trying to split the Polish-American community or to get any significant level of support for the regime among non-Polish Americans. Polish-American organizations were not opposed to more academic and cultural exchanges between Poland and the United States or to American loans and business investments in Poland as long as they were done under careful management and monitoring to ensure that they would benefit mostly the people in Poland rather than the regime. Under no circumstances would most Polish-American civic leaders agree to give legitimacy by any of their actions to the communist regime. There were a few more exceptions to this rule among Polish-American businessmen, but even most of them showed no excessive support for the communists in Warsaw.
The "Untouchable" Parade
HON. JOHN R. RARICK
OF LOUISIANA
IN THE HOUSE OF REPRESENTATIVES
Thursday, February 8, 1968

Mr. RARICK. Mr. Speaker, just as the Red Vietcong were able to infiltrate South Vietnam and on New Year's Day rise to the surface In a suicidal battle against the citizens, we can better appreciate the constant threat from the American Vietcong, the "Untouchables" who are planted in our country—in our Government.

Mr. Capell's "Untouchables, Part VII" should be revolting enough to awaken every patriotic American—liberal, moderate, or conservative—to demand action for removal of these undesirable untouchables.
The President of the United States must appreciate the danger from Madam Jerzy Michalowski, wife of the current Polish Ambassador to the United States and stationed here in Washington, D.C. the nerve center of our Republic.

Her removal needs only that President Johnson declare her husband, Ambassador Michalowski, persona non grata. Why doesn't he do it?
Mr. Speaker, under unanimous consent I follow my remarks with "Untouchables, Part VII from the Herald of Freedom and a clipping from the Government Employees Exchange here in the District of Columbia dated February 7:

[From the Herald of Freedom, Feb. 9, 1968] THE UNTOUCHABLES—VII
Now emerging as possibility more than an innocent and duped bystander in the Warsaw Spy and Sex Scandals is the American Ambassador to Poland at that time, Jacob D. Beam. The Government Employees' EXCHANGE, a liberal bi-weekly dedicated to civil service reform, owned and edited by Mr. Sidney Goldberg, carried a story concerning Beam's involvement in its January 10, 1968 issue. Under the red headline, "Sex Scandals Involve Beam," the story stated that Madam Jerzy Michalowski a Communist agent, "has been positively identified as 'one of the chief architects of the 'Warsaw Sex and Spy Scandals'" which disrupted the American Embassy in Warsaw during the incumbency of Ambassador Jacob Beam. . . . In addition, the informant stated the woman has also been identified 'without any question of doubt' as having maintained an 'intimate personal relationship' with Mr. Beam from 1957 to 1961. . . ."
U.S. Congressman who inserted accusations against Ambassador Beam and Mira Michałowska into the Congressional Record was ultra-conservative, strongly anti-Soviet and anti-communist Democrat from Louisiana Rep. John R. Rarick, a decorated World War II veteran but also a segregationist. He did not want Beam to be U.S. Ambassador to Moscow and on 1969 repeated his warnings on the floor of the House of Representatives about Beam's alleged romantic relationship with Mrs. Michałowska. 14
President Johnson ignored Rarick's warnings and did not declare Ambassador Michałowski persona non grata, which would have meant also the expulsion of his wife from the United States. But while Rarick was a far-Right, anti-integration Democrat and could be dismissed as making irresponsible accusations, over the years many other members of Congress, both moderate Republicans and moderate Democrats, spoke up during World War II and in the late 1940s and the early 1950s against the danger of Soviet influence and propaganda in Voice of America programs and their initial ineffectiveness behind the Iron Curtain. In a speech on the floor of the House of Representatives on July 24, 1951, Congressman Richard B. Wigglesworth (R-MA) read excerpts from letters from listeners to Voice of America programs in Poland who six years after World War II had ended still described them as "uninteresting, drab, bureaucratic in tone, unconvincing." Some of the legacy of Złotowska and Arski's presence lingered at the Voice of America Polish Service even for several years after their departure. It took pressure from Congress and the replacement of the entire World War II Polish Service staff with new anti-communist journalists to eliminate the tendency to protect Russian interests.
VOA broadcasts to Poland were drastically reformed in the early 1950s when new journalists, such as Zofia Korbońska, an anti-Nazi World War II fighter who escaped arrest by communists and Soviet NKVD in Poland, were brought in to replace the previously pro-Soviet staff. She was hired in 1948 at the recommendation of former Ambassador to Poland Arthur Bliss Lane. As Zofia Korbońska and her husband were fleeing Poland in 1947 hidden below the deck of a ship bound for Sweden, Mrs. Michałowska was free to travel without fear between Poland and Britain as the wife of a communist diplomat. Another refugee journalist from Poland who had worked at both Radio Free Europe and the Voice of America was Marek Walicki. He crossed two heavily-guarded borders and found his way to Munich, West Germany where in 1952 he became the youngest journalist working in the RFE Polish Service.
Congressional warnings
One of the earliest warnings of Soviet subversion of U.S. government overseas radio broadcasts came in April 1943 from Republican U.S. Senator from Ohio, Robert A. Taft, the son of William Howard Taft, the 27th President of the United States. In a speech on the Senate floor on April 19, 1943, Senator Taft warned of "ugly rumors abroad" that much of American "short-wave broadcasting is futile and idiotic, and very inferior to that of other nations." "It is said that some of it is communistic and some of it is fascistic, and that much of it tries to play European politics, about which we know nothing, instead of presenting the American point of view," Senator Taft added. There was no evidence that any of VOA programming during the war was intentionally pro-Nazi—it was intended to be strongly anti-Nazi—although some of the simplistic anti-Nazi propaganda could have been seen as having an impact contrary to its intended aims.
There was, however, clear evidence of massive VOA propaganda in favor of the Soviet Union and Stalin's plans to control Eastern Europe to the point of harming American interests and damaging America's other allies and their democratic governments against whom some of the Soviet-inspired VOA propaganda was directed. When Senator Taft issued his warning, Mira Złotowska and Stefan Arski were working on OWI and VOA propaganda targeting Polish speakers.
At the time Złotowska, Arski and Hoffmeister were employed by the Office of War Information, Congressman Roy O. Woodruff (R-MA) delivered on April 20, 1943 on the floor of the House of Representatives another early warning of Soviet influence over America's radio outreach abroad. In addition to VOA broadcasts to Poland, Congressmen Woodruff also focused on VOA broadcasts to Yugoslavia, charging that both might have fallen under communist influence.
…reports are constantly reaching me and other Members of Congress that the propaganda activities of the Polish Unit of O. W. I.'s Overseas Division are destroying rather than building the morale of the helpless Polish people.
These reports tell us that much of this propaganda follows the American Communist Party line and is designed to prepare the minds of the Polish people to accept partition, obliteration, or suppression of their nation when the fighting ends. The same is true of Yugoslavia, where, I am told, the name of the great Mihailovitch [Draža Mihailović, a Yugoslav Serb general during World War II executed by the Communists after the war] is blocked out by O. W. I. radicals.
If it is true that Communists have infiltrated into the O.W.I.'s Overseas Division and are following the party line in their propaganda to Poland, as well as other countries, then it is an outrageous violation of the faith that is reposed in Elmer Davis and Robert Sherwood. If this is not true, then the Polish people in America are entitled to have allayed the rumors which may be enemy inspired. 15
A little over a year later, a Democratic politician, Congressman John Lesinski Sr. (D-MI), told the House of Representatives in remarks inserted in the Congressional Record on June 23, 1944 about Soviet propaganda in VOA radio broadcasts to Yugoslavia. Members of Congress were also concerned about pro-communist VOA broadcasts in Greek, French and Italian, as well as some VOA broadcasts in English.
Under present war restrictions, news in regard to our allies—or, for that matter, any foreign country—is not printed unless it has the approval of the Office of War Information, of which Hon. Elmer Davis is Director.
I have followed with a great deal of interest the releases in regard to Yugoslavia, and I cannot understand why the Director of War Information is feeding Communist propaganda to the American people in regard to the conditions in Yugoslavia. 16
OWI director Elmer Davis told a bipartisan investigative committee of the U.S. House of Representatives in 1952 that Congressman Lesinski was lying. Lesinski was not lying, but by then he was no longer alive to respond to Davis.
I recall that he [Congressman John Lesinski Sr.] made a speech in the summer of 1943 which contained more lies than were ever comprised in any other speech made about the Office of War Information, and that is saying quite a lot. I may say that I have made that statement to Mr. Lesinski before he died. I mean that I have not waited until after he is dead. I told him so in writing when he repeated some of those statements 2 or 3 years ago. I asked him where he got the information, because that was a perfectly absurd speech to be made by a Member of the Congress of the United States who knows anything about American politics or the American news business. 17
What Congressman Lesinski had said about OWI in 1943 has been confirmed by multiple sources. The arrogance of Elmer Davis, a journalist and a high-ranking Roosevelt administration official who accepted at face value the greatest Soviet propaganda lie of World War II about thousands of Polish officers murdered by the Soviets in 1940 in Katyń and at other locations in the Soviet Union and repeated it to domestic and foreign audiences despite warnings and evidence of Soviet guilt, was not only boundless but also typical of the agency's top brass of that period.
Thanks to several lawmakers from both parties, the U.S. Congress became quite early into the war aware of Voice of America communist propaganda in broadcasts to Yugoslavia, Poland and other countries in Europe and Asia. Bipartisan critics almost succeeded in defunding foreign broadcasts even while the war against Germany and Japan continued. After the war, the passage of the 1948 Smith-Mundt Act ensured strict security background checks for Voice of America broadcasters, by then already working within the State Department's bureaucracy. The postwar legislation also prevented VOA from having its programs distributed domestically to propagandize to Americans, as OWI broadcasters had been allowed to do during the war.
Warnings and recommendations issued in 1951 by the bipartisan Madden Committee, named after its chairman Ray Madden (D-IN), resulted in eliminating some of the Voice of America censorship of news and information about Soviet human rights abuses and genocidal crimes, including the Katyn massacre. In his testimony before the bipartisan committee, former OWI director Elmer Davis told Congressman Thaddeus M. Machrowicz (D-MI), a Polish immigrant who as a young child came to the United States in 1902, that he did not recall knowing Stefan Arski. He also said that he had never known or heard of Mira Złotowska.
Mr. MACHROWICZ. Now, let me ask you whether you received any warnings from the then Polish Ambassador to the United States, Ambassador Ciechanowski, warning you about the fact that there were some Communist employees in the OWI?

Mr. DAVIS. I received a great number of allegations from Mr. Ciechanowski. I can't remember all of them now, but they were investigated, and, as I recall, there was no convincing evidence to support them.

Mr. MACHROWICZ. Do you know Irene Belinska[sic.; she was Irena Maria Balińska], who was in the Polish Section?

Mr. DAVIS. I don't remember here.

Mr. MACHROWICZ. For your information, she was at the time one of the members of the Polish Section in your office.

Mr. DAVIS. Was she here or in New York?

Mr. MACHROWICZ. In Washington. She is the daughter of Ludwig
Rajchman, who was the first consul of the Polish Communist Embassy in Washington in 1945. Rajchman engineered the surrender of the Polish Government in exile's tiles to to the Polish Communist Government in Washington. In 147, this same Miss Balinska returned to Poland—she was then employed by the Office of War Information—returned to Communist Poland and then came back to the United States and is now with a Polish Communist publishing house, which publishes an anti-American newspaper. Did you know that?

Mr. DAVIS. She could not have been employed by the Office of War Information in 1947, because we had folded up.

Mr. MACHOWICZ. No, not in 1947. It was prior to that time.

Mr. DAVIS. I don't remember.

Mr. MACHROWICZ. Yon don't remember having been warned by
Ambassador Ciechanowski or by anyone else about the fact that she was in your employ and that she was a Communist?

Mr. DAVIS. I don't remember. It may have happened. I don't know; it is a long time ago.

Mr. MACHROWICZ. Did you know a Mira Zlotowski, who was in your employ in 1945?

Mr. DAVIS. I don't recall. Mr. Krzyzanowski was the only man I ever had much dealing with, as I say, as the head of our Polish desk in Washington.

Mr. MACHROWICZ. Did you know Mrs. Zlotowski, the wife of Prof. Ignatius Zlotoweki, the counselor of the Polish Communist Embassy in Washington, who was denounced as a Communist by General Modelski of the Polish Embassy, who had resigned? He testified before the House Un-American Activities Committee that Mrs. Zlotowski was a Communist agent.

Mr. DAVIS. I have no doubt of that.

Mr. MACHROWICZ. You don't remember her being employed by the Office of War Information?
Mr. DAVIS. She may well have been. I don't remember. As I say, the only man I dealt with was Mr. Krzyzanowski, who after he left us went to the United Nations. For 3 or 4 years the Polish Communist Government tried to get him out of his job at the United Nations because he was working for us. I don't know whether he is still employed there.

Mr. MACHROWICZ. Did you know a Stefan Arski, alias Arthur Salman?

Mr. DAVIS. No.

Mr. MACIIHOWICZ. For your information, he was also employed by the Office of War Information in 1945. He is now in Warsaw, Poland, and is editor in chief of the Communist paper Robotnik, which means The Worker, the most outspoken anti-American organ in Warsaw. He at that time was also an employee of the Office of War Information. You have no recollection of him?

Mr. DAVIS. No.

Mr. MACHROWICZ. You have no recollection of either Ambassador Ciechanowski or Congressman Lesinski warning you about the fact that these three persons were known Communists, and were in the employ of the Office of War Information ?

Mr. DAVIS. I don't remember that Mr. Lesinski ever warned me about anything. Mr. Ciechanowski, perhaps by his excessive number of warnings, made me forget which particular ones he especially spoke about.

Mr. MACHROWICZ. Would it refresh your recollection if I told you that you told Ambassador Ciechanowski to keep away from that matter ?

Mr. DAVIS. I don't know, but I do know that I was often tempted to tell various of the representatives of the governments in exile to stay out of our business, because almost every one of them seemed to think that it was our duty to carry out the policies of his government and not those of the United States. There were only two exceptions to that that I can remember, of the governments in exile, the Czechs, that is, the good Czechs, Beneš, and Masaryk and the Filipino Government.

I will anticipate your next question. Mr. Hofmeister [sic], who was head of our Czechoslovak desk in New York, after the Communists seized power, became a Communist and is now, I believe, the Czechoslovak Ambassador in Paris. But be showed no signs of that inclination while, he was with us that I ever heard of.

Mr. MACHROWICZ. You took that attitude, even though they had warned you of the presence of Communist agents in the Office of War Information?

Mr. DAVIS. If I had taken seriously all of the stories about agents of the Communists in the Office of War Information I would have had nothing else to do but to fire the whole staff. We investigated everything as much as we could, and we found that 99 percent of the allegations were without foundation. I remember that at one time I received a very serious warning in the summer of 1944 about some of our people in Hollywood who were associating with a dangerous and subversive character who at that time happened to be the chairman of the Dewey committee in Hollywood, and who had also written the most effective anti-Communist picture that was ever put on the screen.
Asked how many OWI employees he had to fire "because of their communistic attitude," Elmer Davis told the congressional testimony "I think it was about a dozen." Mira Złotowska, Stefan Arski, Adolf Hoffmeister, Irena Maria Balińska and many other Soviet sympathizers were not fired. It is unclear whether Davis included among those fired John Houseman and Howard Fast. They were quietly forced to resign or resigned under pressure. It was never proven that Houseman had joined the Communist Party. Fast claimed that he joined the Communist Party only after he had left his job with the Voice of America. 18
Rumors of affair with U.S. Ambassador
As can be seen in the 1968 Congressional Record, Michałowska was described following her return to the United States as leading "a very busy life" and "being glamorized as a Washington hostess." Her ability to manipulate U.S. government officials and members of Congress into offering more support for the communist regime in Warsaw and limiting or eliminating support for Radio Free Europe and dissidents behind the Iron Curtain was probably a more real danger to Americans than any possible spying activities.
In her "Between the Lines" column, quoted in the Congressional Record, American newspaper commentator Edith Kermit Roosevelt, granddaughter of President Theodor Roosevelt, described Mira Michałowska as "a Warsaw charmer" whose "various marriages" and activities "may provide the incentive that could force the issue of Communist espionage and policy manipulation into the limelight." Edith Kermit Roosevelt noted that White House and State Department circles remained silent about Ambassador Beam and Mrs. Michałowska. She reported being told that they feared that "the revelations could spark 'a new wave of McCarthyism in the United States.'" In 1967, the columnist asked the National Archives in a letter for information about Stefan Arski's OWI personnel records. She received a reply that there were no records for Stefan Arski. She and presumably the National Archives staff did not know that his OWI personnel records were under the name of Artur Salman, his real and legal name.
The American columnist was hinting at rumors that Mira Michałowska became romantically involved with the U.S. Ambassador to Poland Jacob D. Beam. It was feared among American intelligence circles that Ambassador Beam may have inadvertently helped Michałowska get information which allowed the communist counterintelligence service to unmask an important CIA agent in the Polish regime's security apparatus, causing the agent, Michał Goleniewski, to flee to the West. Goleniewski had helped the CIA and the British intelligence service MI5 identify several Soviet spies, but some years after he had sought asylum in the United States he embarrassed his American CIA handlers by his claim that he was Tsarevich Alexei Nikolaevich who was saved from the Bolshevik execution of the Russian imperial family members.
Allegations against Mira Michałowska that she may have helped in putting Goleniewski in danger of being arrested were never confirmed and may or may not be true. The information that led to his escape from Poland may have come from a Soviet mole in Britain. There is also no proof that Michałowska's first nuclear scientist husband did any spying for the Soviet Union on U.S. atomic secrets. Likewise, there is no proof that Michałowska had anything to do with Irvin C. Scarbeck's sex scandal at the U.S. Embassy in Warsaw. Scarbeck was a State Department official who in 1961 was convicted of giving information to the Polish secret police after he became involved with a Polish woman and was blackmailed by Polish intelligence agents. But quite possibly under the influence of charming and persuasive Mrs. Michałowska, U.S. Ambassador to Warsaw Jacob Beam became a severe critic the Polish Service of Radio Free Europe and started to demand that it be closed down for doing damage to U.S. relations with the communist government in Poland.
Vice President Richard Nixon, who was greatly impressed by the enthusiastic reception he got on his 1959 visit to Warsaw from ordinary Polish people who had learned about the route of his motorcade from Radio Free Europe Polish broadcasts, reportedly told Ambassador Beam to stop his anti-RFE campaign, explaining to him that it was also "an American diplomat's responsibility to maintain a close relationship with the people." 19
Ambassador Beam eventually broke off his relationship, whatever it was, with Michałowska and put the sex-spy scandal behind him. He was named U.S. Ambassador to the Soviet Union and eventually became a strong supporter of Radio Free Europe, serving as chairman of the RFE board.
Life of a diplomatic wife
Mira Michałowska meanwhile continued her writing career as an author of books and translator of American literature. While living in the United States as a diplomatic wife, Michałowska, under the pen name Mira Michal, published in English one of her many books. Titled Nobody Told Me: A Diplomatic Entertainment, the book's description said that "Mira Michal had never set foot inside an embassy until she married the Polish ambassador to the Court of St. James's…this charming and cheerfully irreverent young woman began learning by trial and error."
To be clear, Mira Michałowska was the wife of the ambassador of the repressive communist regime, imposed by Russia and never freely elected by the Polish people, but that is not what she wanted emphasize to Americans in her book or in her articles which she managed to get published in The Atlantic, Harper's Magazine, Vogue, New Yorker and The Virginia Quarterly Review. Further in her book's promotional introduction, one reads: "Miss Michal also describes the diplomatic whirl in the affluent society in New York, how U.N. wives get along with one another, how she and her husband made new acquaintances, and how, somehow, amend the strangeness and confusion of the city, they found, of all things, a Polish cook.
Subtle and sophisticated in her propaganda articles for American consumption, she apparently was not ashamed of writing and talking about organizing diplomatic dinners in Western capitals and even offering food recipes while most women in communist-ruled Poland had to stand in lines for many hours to purchase the most basic food items. Polish workers rebelled and some died in the 1956 demonstrations against the lack of freedom, food shortages and high food prices. They rebelled again and some died again in similar workers' protests in Poland in 1970. There were more workers' protests in 1976 and 1980 leading to the collapse of communism in Poland in 1989.
During the Cold War, most Poles also could not afford to travel to the West, assuming they could get tourist passports valid for countries behind the Iron Curtain. Strong opponents of the regime among Polish intellectuals were often banned from travel abroad and could not publish in Poland, but the communist elite lived well, published books, made money and traveled freely.
Michałowska, Arski and Hoffmeister could have stayed in the United States after the war and have comfortable middle class or even upper middle class lives. By choosing to serve pro-Soviet regimes, they immediately joined the communist elite in their countries, becoming the Red aristocracy, while the rest of the population led a miserable existence for several decades under political repression and state-socialist economy with chronic shortages of food and consumer goods.
One group not fooled by subtle propaganda from the wife of a diplomat who presented in her books and articles Warsaw regime officials and their spouses and children as likable individuals who wanted the best for their country and had no ill will toward the West, were anti-communist refugee journalists working at that time in the already reformed Voice of America Polish Service. With only one exception, no VOA Polish Service journalist during the Cold War would agree to attend a communist diplomatic reception at the Embassy in Washington, at Polish Consulates or the U.N. Mission in New York. By the 1970, the VOA's management would not object to such social contacts at the communist and might even welcome them since diplomatic and business relations between the United States and the Edward Gierek regime were improving (all contacts between VOA journalists and communist diplomats still had to be reported to the Office of Security), but VOA Polish Service journalists refused to do anything that might give legitimacy to the communist government in Poland. VOA journalists would interview communist government officials from time to time, but they would not socialize with representatives of a repressive and illegitimate regime. Mrs. Michałowska had no chance of being invited for an interview with the Voice of America Polish Service.
Zofia Korbońska
While Mrs. Michałowska invited rich and influential Americans to diplomatic receptions at the regime's embassy on 16th Street, NW in Washington to convince them that Poland and its Soviet-backed government should be treated like any other respectable foreign country and government, anti-regime Poles met in Washington at what some called the unofficial embassy of free Poland at the home of Zofia and Stefan Korboński on Decatur Place, NW. Born in Warsaw in 1912, two years earlier than Mira Michałowska, Zofia Korbońska was since 1948 until the 1980s, broadcaster and editor in the VOA Polish Service.
Both highly-educated, intelligent, sophisticated and elegant, these two women could not have been more different in their political views, values and loyalties. Working for the Voice of America, first in New York and later in Washington during the Cold War, Korbońska contributed to the fall of communism; Mira Michałowska helped to keep in in power. Zofia Korbońska did not publish any books, but books have been written about her, some with transcripts of interviews she had given to journalists and writers. In 2004, Korbońska appeared in CNN documentary "Warsaw Rising: The Forgotten Soldiers of World War II" hosted by David Ensor who later became VOA Director.
As a member of the Polish Undergroud Army, Armia Krajowa (AK), during the Nazi occupation, Mrs. Korbonska daily risked her life writing and coding secret shortwave radio transmissions sent from Poland to the Polish government-in-exile in London. Her dispatches kept the outside world informed about Nazi atrocities and anti-German resistance. Thanks to her, some of the first news about the killings by the Gestapo of members of the Polish intelligentsia, the Nazi extermination of the Polish Jews and the Nazi medical experiments on women prisoners at the Ravensbruck concentration camp reached the Free World and were broadcast back to occupied Europe by the BBC. Her husband Stefan Korboński was a Polish agrarian politician, lawyer, journalist and a one of the civilian leaders of the wartime authorities of the Polish Secret State. In 1980 the Yad Vashem Institute gave Korboński the Righteous Among the Nations medal for saving Jews under German occupation. As a leader in the Polish Secret State, Korboński was in charge of the underground court system which issued death sentences to some of the Poles who denounced Jews to the German occupiers.
Misguided supporter?
Working for the Voice of America during World War II, Michałowska helped in a minor way to impose Soviet communism on Poland and later served the communist regime for several decades. The most serious charge against Mira Michałowska of alleged spying on American diplomats cannot be proven beyond all reasonable doubt, but it is consistent with other confirmed information about her background and activities as a journalist, writer and supporter of communism and the Soviet Union. While in the United States, both Złotowska and Arski were in contact with Bolesław (Bill) Gebert, a Communist Party USA organizer who was identified in Soviet intelligence cables deciphered through the U.S. Venona project as actively assisting the KGB. Gebert's KGB cover name was Ataman. Złotowska and Arski were also in contact with Professor Oskar R. Lange who was presented in Venona KGB cables as an important agent of influence under the cover name "Friend." 20
Lange, who was a naturalized American citizen and professor of economics at the University of Chicago traveled in 1944 with approval from President Roosevelt for a meeting with Stalin in Moscow. Arski listed Lange as one of his references on his U.S. government job application. After the war, Lange renounced his American citizenship and became the Warsaw regime's first ambassador to Washington. Gebert became the regime's ambassador to Turkey. It is entirely possible that through her close links with individuals who already worked as KGB intelligence agents or important agents of influence, Złotowska also was recruited after the war as a spy or an informant. This would not be at all unusual since the regime regarded all important journalists, diplomats and even their family members as potential spies and informants.
The communist regime was able to offer big rewards to writers, artists and journalists who chose to support it, but it also had the power to intimidate, punish and blackmail those who did not. As it turned out later, a few Voice of America Polish Service journalists were listed as secret police informants while they were still living in Poland. They were most likely all forced to cooperate and some stopped these contacts even before they left Poland for the West. Some resisted providing any useful information. Blackmail by those who had power over job promotions, foreign travel, admittance to universities, publishing of article and books and access to scarce consumer goods was a part of daily life in Poland under communism.
Unlike most people in Poland, Mira Michałowska was not forced to cooperate with the regime to survive; she did it willingly, using her great talents and skills. Whether Michałowska honestly believed in Soviet communism while working to support the Polish regime is not clear. She identified herself with reform-minded Polish communists who claimed to be interested in improving relations with the United States and Western Europe, but she enjoyed all the privileges of the communist elite and worked hard to win support for it among Western publics, journalists and diplomats. In an article written for Harper's Magazine in 1946, Złotowska wrote about a regime militiaman in Poland as a defender of the rule of law. "We are not a nation of criminals," she quoted the communist militiaman. At the time, communists with the help from the Soviet NKVD were already imposing a harsh dictatorial regime in Poland, falsely accusing former anti-Nazi fighters of being fascists, arresting, torturing and killing their political opponents.
Why should Mira Michałowska or Howard Fast be included among many excellent authors who were highlighted in the Voice of America "VOA Authors" presentation for writing books before, during and after their employment as reporters, editors, managers or as government officials running VOA? Certainly not because they were great journalists, although they were both very good and prolific writers. The answer to that question might be that it should be done for the sake of accuracy and as a warning to Americans, especially journalists, who are concerned about Russia's propaganda activities and want to know how to protect Americans from disinformation and Russian trolls. Besides, most of the VOA authors who are highlighted happen to be American men who published books in English (only a few foreign-born writers, men and women, are included) while the vast majority of journalists who had worked for the Voice of America were foreign-born refugees from communism. A large number of foreign-born anti-communist refugee authors were women.
Admittedly, Mira Michałowska was a supporter of a deadly ideology, but if her profile were included together with more profiles of East-Central European anti-communist journalists like Zofia Korbońska who had worked at the Voice of America in later years to correct the damage done by Houseman, Arski, Hoffmeister, Michałowska and many other early VOA pro-Soviet Russia propagandists, this could have been a historically educational and worthwhile project. From the perspective of pure informational value and objectivity, Howard Fast, also a Communist who had worked in a key editorial position in World War II Voice of America, wrote and published more best-selling books than all the other writers listed in the "VOA Authors" project.
Heda Margolius Kovály
Another VOA woman author definitely worth highlighting but also missed would have been Heda Margolius Kovály, the wife and later widow of Rudolf Margolius (1913 – 1952), Czechoslovak Deputy Minister for Foreign Trade (1949–1952) in the Soviet-dominated regime. She had worked in the 1970s as a freelance reporter for the Voice of America Czechoslovak Service under her radio name Kaca Kralova. Her husband was the youngest communist co-defendant in the 1952 anti-Semitic Rudolf Slánský trial and was executed.
In her memoir, Under a Cruel Star published in the West, Heda Margolius Kovály made several comments about Western radio broadcasting during the early years of the Cold War. She explained how some members of the communist elite in Czechoslovakia at first could not believe early in the Cold War Radio that what Radio Free Europe was reporting on human rights violations in their country could possibly be true. Arski and Michałowska were lucky that there were no major Stalinist show trials in Poland against Communist Party officials, but there were many show trials against political opponents of the regime resulting in numerous executions. There were also many ex-judicial killings by the communist secret police in Poland. 21
Distorted history
Soviet influence over early Voice of America broadcasts was subsequently covered up by VOA officials who created a false narrative designed to obscure the fact that Soviet Russia managed to dupe the organization into spreading Soviet propaganda in favor of establishing communist regimes in East-Central Europe. VOA Director Amanda Bennett, appointed during the Obama administration, wrote in a 2018 opinion article in The Washington Post that "The radio broadcast that eventually became Voice of America was created to give people trapped behind Nazi lines accurate, truthful news about the war, in contrast with Nazi propaganda." 22 Her assertion was not entirely false, but it was also not entirely true. What the VOA Director may not know or forgot to mention is that U.S. government propaganda during World War II, including Voice of America broadcasts, was, in addition to providing a lot of true information about the course of the war and Nazi atrocities, also severely tainted with many half truths and deliberate lies designed to protect from domestic and foreign criticism an important U.S. military ally–Soviet Russia and its communist dictator Josef Stalin.
Polish journalist about Voice of America
Voice of America World War II broadcasts were of little use to the vast majority of Poles who were not communists and were rightly afraid of Soviet Russia. One Polish refugee journalist in London wrote after the war:
"With genuine horror we listened to what the Polish language programs of the Voice of America (or whatever name they had then), in which in line with what [the Soviet news agency] TASS was communicating, the [1944] Warsaw Uprising was being completely ignored." 23
Konstanty Broel Plater – an honest journalist
One VOA Polish Service journalist, Konstanty Broel Plater who protested against pro-Soviet propaganda in Voice of America World War II broadcasts, chose to resign in 1944 rather than read Soviet lies on the air. He was one of the very few journalists at the Voice of America during the war who saw the danger of appeasing Stalin and refused to participate in spreading Soviet propaganda lies. In the VOA Polish Service during World War II, he might have been one of the very few who did not try to help Stalin install a pro-Soviet government in Poland.
Ambassador Jan Ciechanowski
In his book Defeat in Victory, Jan Ciechanowski, former ambassador in Washington of the Polish government-in-exile in London wrote after the war how he tried to warn the Roosevelt administration about the danger of VOA broadcasting Soviet propaganda. His warnings produced no results and he was later mocked by OWI director Elmer Davis.
So-called American propaganda broadcasts [Voice of America, originally called "America Calling Europe"] to occupied Poland were outstanding proofs of this tendency. Notorious pro-Soviet propagandists and obscure foreign communists and fellow travelers were entrusted with these broadcasts.
I protested repeatedly against the pro-Soviet character of such propaganda. I explained to those responsible for it in the OWI that the Polish nation, suffering untold oppression from Hitler's hordes, was thirsting for plain news about America and especially about her war effort, her postwar plans, and her moral leadership, that Soviet propaganda was being continuously broadcast anyway to Poland directly from Moscow, and there seemed no reason additionally to broadcast it from the United States. 24
Stefan Arski and Mira Złotowska were responsible for such pro-Soviet propaganda with full support from their American bosses, including first VOA director John Houseman. When Konstanty Broel Plater protested against broadcasting Soviet lies, a management's representative sent from Washington to New York to talk to him asked him whether he really wants to have a fight with the Voice of America director. There were a few others like Broel Plater working on VOA Broadcasts in New York during World War II, but they could do little to stop Soviet propaganda. 25
Learning from history
To this day (November 2019), officials in charge of the Voice of America and its current parent agency do not want to admit that many foreign and American communists and Soviet agents of influence were working on producing VOA radio broadcasts during World War II or in some cases in later years. They laud Soviet sympathizer John Houseman and hide embarrassing information about him when they should be honoring such VOA broadcasters as Konstanty Broel Plater, Zofia Korbońska and Heda Margolius Kovály. While there is no reason to highlight Mira Michałowska, Howard Fast, Stefan Arski or Adolf Hoffmeister in every VOA promotional material, for the sake of historical accuracy and learning from past mistakes, they should not be completely erased by the management from VOA's history. Americans would benefit from knowing that some VOA broadcasters during World War II, a few of them Communists, engaged in censorship and propaganda to benefit Soviet Russia.
There is a definite danger in ignoring history. The coverup of VOA's less glorious moments in U.S. government broadcasting and journalism has continued for decades during the Cold War and afterwards, leading to some past mistakes being repeated in today's disinformation wars waged by Russia against the West. I discovered that many Voice of America reporters and editors today have no idea that Angela Davis was a pro-Soviet American communist who during the Cold War had condemned East European and Soviet dissidents as counterrevolutionaries. She received the Lenin Peace Prize. In two fairly recent VOA programs, Angela Davis was presented as a brave fighter for human rights. As George Orwell wrote in Nineteen Eighty-Four: A Novel, "The most effective way to destroy people is to deny and obliterate their own understanding of their history."
Putin's Russia has weaponized history for disinformation warfare. Any news organization that wants to stand up to today's Russian propaganda must know the history of Soviet communism, as well as its own history. The Voice of America must know this history better than any of Putin's propagandists if it wants to counter their subversive media activities. The life story of Mira Michałowska is a good example of how difficult it is to protect news organizations and journalism from subversive effects of ideological activism and manipulation by foreign actors. It may never be possible to confirm whether Michałowska was a spy, but as the wife of famous Polish communist-era journalist and writer Ryszard Kapuściński, himself a member of the Communist Party, told journalists after it was revealed that he had agreed to cooperate with the communist intelligence service, her late husband was not bothered by it, knowing that all Polish journalists who during the Cold War traveled abroad were registered as potential informants. Some Polish journalists and writers, including Michałowska, were more willing to cooperate than others even if they considered themselves to be pro-Western communist reformists. If every Pole at home and abroad chose to behave that way, Poland might still be today under communist rule. But thanks to incorruptible journalists like Jan Nowak-Jeziorański and Marek Walicki at Radio Free Europe, Zofia Korbońska at the post-war, reformed Voice of America, Polish workers like Lech Wałęsa, Polish Catholic Church leaders like Pope John Paul II, and American leaders like President Ronald Reagan, Poland is now free.