By Ted Lipien for Cold War Radio Museum
After years of coverup and censorship of news about the Katyn massacre committed by the Soviets in 1940 on about 22,000 Polish military reserve officers, government officials, and intellectual leaders, the Voice of America (VOA) began extensive coverage of the story following President Truman's "Campaign of Truth" speech and the replacement of pro-Soviet VOA managers and journalists who had helped to spread Stalin's propaganda lies in VOA broadcasts since their launch in 1942.
In February 1952, Wilson M. Compton, the head of the United States International Information Administration in the State Department, which managed VOA programs, could report truthfully to John J. Mitchell, Special Counsel of the Select Committee of the House of Representatives on the Katyn Massacre in the 82nd Congress, that VOA provided extensive coverage of the committee's investigation of the mass murders of Polish intelligentsia prisoners of war carried out in the spring of 1940 by the Soviet secret police on the orders of Joseph Stalin and the Politburo of the Soviet Communist Party.
Such extensive and uncensored coverage by the Voice of America would not have been possible even a few years earlier when VOA and the State Department still employed officials and journalists who were deniers of Stalin's crimes. The first VOA chief news writer and editor during World War II, prolific American novelist Howard Fast, was a Communist Party member who censored any criticism of the Soviet Union.[ref]Curator, "Communist Writer And Future Stalin Peace Prize Winner Howard Fast Resigns From Voice of America – Cold War Radio Museum," accessed January 22, 2023, http://www.coldwarradiomuseum.com/timeline/communist-writer-and-future-stalin-peace-prize-winner-howard-fast-resigns-from-voice-of-america/.[/ref] He, and the first VOA director John Houseman, were forced to resign by the Roosevelt administration, but other pro-Soviet managers and broadcasters continued to work on producing VOA broadcasts until they were replaced by the Truman administration in the late 1940s.[ref]Curator, "Sumner Welles Warns White House About First Voice Of America Director Hiring Communists – Cold War Radio Museum," accessed January 22, 2023, http://www.coldwarradiomuseum.com/timeline/sumner-welles-warns-white-house-about-first-voice-of-america-director/.[/ref] A few former VOA broadcasters worked later for communist regimes in Eastern Europe as anti-American propagandists. Howard Fast received the Stalin Peace Prize in 1953.
Full and honest coverage of the Katyn story did not last long at the Voice of America. Partial censorship by State Department officials and VOA managers returned already during the Eisenhower administration to protect the policy of detente with the Soviet Union and continued with various degrees of restrictions until the start of the Reagan administration. Personnel and programming changes during President Reagan's administration allowed VOA to report on the Katyn story and other communist atrocities without any censorship. Such restrictions were not imposed on Radio Free Europe (RFE) and Radio Liberty (RL), which always reported extensively and truthfully on all Soviet and other communist mass murders and other human rights abuses.
An ex-Marxist and later anti-Communist, Bertram Wolfe, whom the Truman administration hired in the early 1950s to help reform the VOA programs and counter Soviet propaganda, could not find a single Voice of America English-language writer capable of understanding the deep need for religious freedom among VOA audiences behind the Iron Curtain. He had to write religious programs himself, even though he was an atheist.
When I went to work for the Voice of America in the period from 1950 to 1954, religious leaders and believers were being framed, tortured, and sent to concentration camps in all the countries under Communist rule in Eastern Europe. After trying to get my script writers to write effective radio broadcasts to defend the religious freedom of the churchmen and devout believers who were being thus persecuted, I found that I had to write the scripts myself to get the requisite feeling into them. I did not believe what the persecuted believed, but I did believe in their right to freedom to harbor and practice their beliefs without interference.[ref]Bertram D. Wolfe, A Life in Two Centuries: An Autobiography (New York: Stein and Day, 1981), p. 81.[/ref]
As the answer to harsh Soviet propaganda attacks on the United States and its allies and the mounting criticism that his administration failed to address them, President Truman unveiled the "Campaign of Truth." In a foreign policy speech on April, 20, 1950 to members of the American Society of Newspaper Editors, he presented a multi-faceted U.S. government's international information program designed to inspire journalists, including Voice of America's federal employees of the Department of State, to offer stronger and more effective resistance to Soviet propaganda and to communist influence. "Everywhere that the propaganda of the Communist totalitarianism is spread, we must meet it and overcome it with honest information about freedom and democracy," Truman said. He also alluded to the media's criticism of his foreign policy and indirectly to criticism of the Voice of America. "Foreign policy is not a matter for partisan presentation," Truman said in his speech to American journalists.
After President Truman's "Campaign of Truth" speech, Secretary of State Dean Acheson said in his semiannual report to Congress on the International Information and Educational Exchange Program for the period July 1 to December 31, 1950, that "Operationally, launching of the Campaign of Truth was reflected at the outset more in sharpened program content and specialized radio treatment than in marked increases in broadcast operations."[ref]Dean Acheson, U.S. Secretary of State, "Launching the Campaign of Truth–First Phase: Sixth Semiannual Report of the Secretary of State to Congress on the International Information and Educational Exchange Program, July 1 to December 31, 1950," Department of State Publication 3479, December 1951, p. 3. https://hdl.handle.net/2027/umn.31951d03562370p?urlappend=%3Bseq=8.[/ref]
Acheson indirectly agreed with critics that earlier VOA programming to the Soviet Union under William Benton, Assistant Secretary of State for Public Affairs from August 31, 1945 to September 30, 1947, and for a few more years after this departure was not well-planned to meet the Soviet propaganda challenge. Acheson mentioned the Soviet jamming of VOA broadcasts, but the jamming was not the main factor in changing VOA's programming policy. The Stalinist regime was just as murderous in 1947, when the VOA Russian broadcast was finally started, as it was in the second half of 1950, the period covered by Acheson's report to Congress. VOA programming needed to reflect the reality of Soviet and communist totalitarianism in the Soviet Union and in other countries, which it failed to do earlier.
The memorandum from Wilson M. Compton, Administrator, United States Information Administration Department of State to John J. Mitchell, Special Counsel, Select Committee on the Katyn Forest Massacre, 82nd Congress, dated February 19, 1952, shows that the Voice of America no longer avoided or limited coverage of human rights abuses behind the Iron Curtain.
DEPARTMENT OF STATE
WASHINGTON
February 19, 1952
[Addressed to: Mr. John J. Mitchell, Special Counsel, Select Committee to Investigate the Katyn Forest Massacre, House of Representatives, Washington, D.C.]
My dear Mr. Mitchell:

In response to your telephone request of February 6th, attached is a nearly complete sampling of Voice of America output covering the hearings held by the Select Committee to Investigate the Katyn Forest Massacre, of the House of Representatives.

This story has been reported thoroughly in broadcasts to Eastern Europe, Western Europe, the Near Fast and the Far Fast by means of spot news stories, interviews, commentaries and special features. To insure [sic] this full coverage, a member of the Washington news coverage staff of the International Broadcasting Services was detailed full time to the story, a Polish language reporter and a special commentary writer were detailed to Washington from New York for the same purpose. In addition, recordings were made of the testimony by our special events unit.

Before the hearings opened, Mr. Sidney S11lkin and Mr. Jack Kelly
from the Washington office of the Voice met with you and with Congressman Madden for advance briefing. Later Mr. Bertram Wolfe and Mr. James Rorty of our New York staff also came to Washington to talk with you and members of the Committee. As part of this advance preparation, Mr. Wolfe, who is Chief of the Ideological Advisory Section, re-issued for the use of all languages of the Voice of America a commentary which he had written on the Katyn Massacre back in April, 1951. This commentary was based in part on his own prior writings and in part on material provided by the Arthur Bliss Lane Commission of Inquiry. It had been originally used by the Voice of America on April 26, 1951, on
the anniversary of the rupture of relations between the Soviet Government and the Polish Government-in-Exile; among other things, it contained a summary of the Col. Van Vliet report. Thereafter, during VOA coverage of the various stages of the news on the setting up of the Congressional Committee of Inquiry, this commentary was re-issued twice and re-broadcast in many languages. As part of the preparation for the hearings, Col. Stewart's testimony was also transcribed and made available to all desks.
On January 12, the weekend before the committee hearings actually began, the Voice of America news file reported developments fully. In addition to several individual news stories which were carried each da;y, coverage was also given in our regular Washington roundups, European roundups, Near East and Far East roundups. Lengthy- reports were carried on January 15, 22, 31, February 5, 6; and a special review of the results of the hearings was carried when the committee adjourned on February 7. Altogether, it is estimated that the Voice of America news file during this period issued some 18,000 words on the Katyn Massacre Investigation.
Especially extensive coverage has been provided to listeners in Poland. Besides making use of all "house" news and commentary material, the Polish service has devoted approximately twenty minutes each day to a commentary prepared by its Washington reporter. (The material attached includes an account of Polish language coverage of Katyn stories from May, 1948 to date.)
An interview with Congressman Madden was carried on the English language program "News Reel USA", broadcast Saturday and Sunda;y, February 9 and 10, on the "Report From Congress" program broadcast on February 9, and "Report From Washington" broadcast February 11; it is also to be used on the program called "Speaking Out" broadcast to Europe and the Far East.
The material enclosed includes basic commentaries and news stories which were circulated to all language desks for translation and adaptation; texts of the interview with Congressman Madden and the two statements by him as well as excerpts from the testimony of Lt. Col. Stewart; some translations back into English of various Polish language programs (not all of the translations have been completed to this point); a report by the Polish desk on its coverage since 1948; excerpts from some English language programs.
I am sure it will interest you to know that we have already received messages from inside Poland as well as from other sources, which indicate that our broadcasts about the Katyn investigation have aroused enormous interest and emotion. Because of these reports, we are repeating certain portions of the story. We will, of course, cover all future events and expect to have a reporter present during your hearings in Chicago. When you have finished with the attached material, would you kindly return it directly to me.
May I at this point express our appreciation of your own very kind cooperation in the coverage of this story.
Sincerely yours,
Wilson M. Compton
Administrator
United States International Information Administration
In its final report issued on December 22, 1952, the bipartisan Madden Committee of the U.S. House of Representatives condemned pro-Soviet Russia reporting and censorship by the Office of War Information and the Voice of America.
As the Cold War intensified, Truman and more members of Congress from both parties concluded that the Office of War Information and the wartime VOA broadcasts had been tainted by Soviet propaganda that harmed America's long-term international reputation, its national interests, and security. The agency was doomed by the incompetence of its leadership, their ideological fascination with Soviet Russia, poor security, which allowed the hiring of Communists and other radicals, and ultimately Stalin's betrayal of the empty promises he made to Roosevelt and Churchill at Teheran and Yalta to get their approval for border changes and for Russia's dominance over Eastern Europe. The bipartisan Select Committee of the House of Representatives to Conduct an Investigation and Study of the Facts, Evidence and Circumstances of the Katyn Forest Massacre, also known as the Madden Committee after its chairman Ray J. Madden (D-Indiana), said in its final report released on December 22, 1952: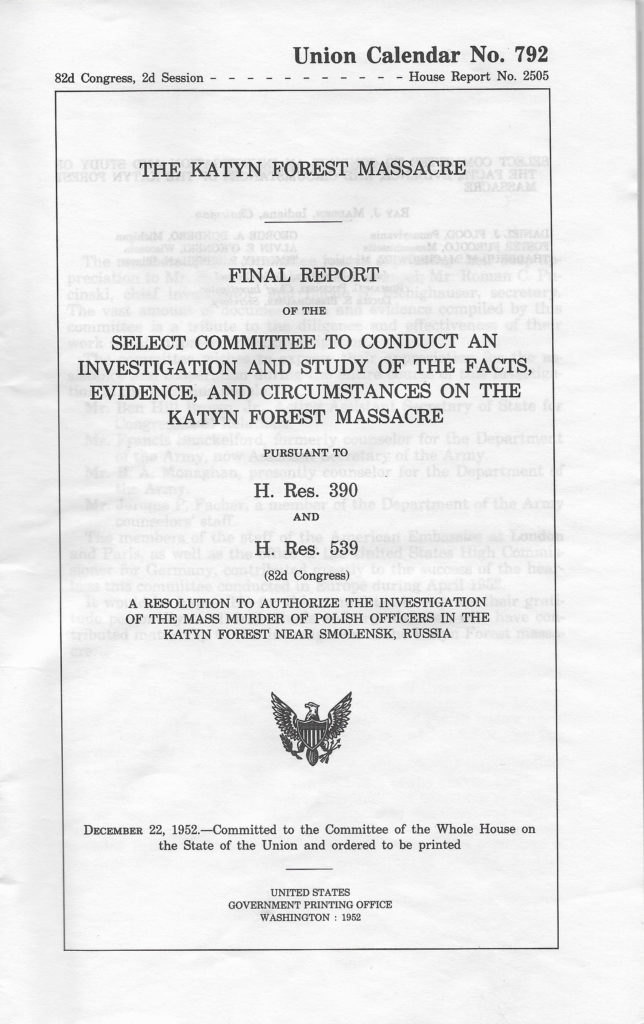 In submitting this final report to the House of Representatives, this committee has come to the conclusion that in those fateful days nearing the end of the Second World War there unfortunately existed in high governmental and military circles a strange psychosis that military necessity required the sacrifice of loyal allies and our own principles in order to keep Soviet Russia from making a separate peace with the Nazis.⁠[ref]Select Committee to Conduct an Investigation and Study of the Facts, Evidence and Circumstances of the Katyn Forest Massacre, The Katyn Forest Massacre: Final Report (Washington: United States Government Printing Office, 1952), pp. 11-13, https://archive.org/details/KatynForestMassacreFinalReport.[/ref]
The committee added:
For reasons less clear to this committee, this psychosis continued even after the conclusion of the war. Most of the witnesses testified that had they known then what they now know about Soviet Russia, they probably would not have pursued the course they did. It is undoubtedly true that hindsight is much easier to follow than foresight, but it is equally true that much of the material which this committee unearthed was or could have been available to those responsible for our foreign policy as early as 1942.⁠[ref]Ibid.[/ref]
The Madden Committee also said in its final report in 1952:
This committee believes that if the Voice of America is to justify its existence, it must utilize material made available more forcefully and effectively.⁠[ref]Ibid.[/ref]
Members of Congress criticized the Office of War Information director, Elmer Davis, for his role in enabling the spread of Soviet fake news through the Voice of America, but later the whole incident was forgotten and became part of the Katyn cover-up. The bipartisan select committee of the House of Representatives, which conducted the investigation of the Katyn Forest massacre, concluded in 1952 that Davis was responsible for repeating false Soviet propaganda through the Voice of America and domestic radio networks in the United States.
Mr. Davis, therefore, bears the responsibility for accepting the Soviet propaganda version of the Katyn massacre without full in­vestigation. A very simple check with either Army Intelligence (G- 2) or the State Department would have revealed that the Katyn massacre issue was extremely controversial.⁠[ref]Ibid., p. 9.[/ref]